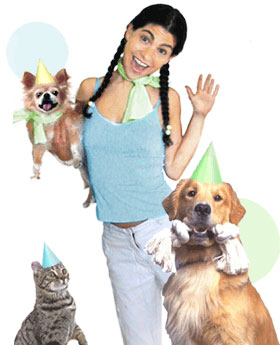 New Pet Alerts, helping you fetch your purrr-fect new friend!
To get to your New Pet Alerts management page, where you can see and cancel any New Pet Alerts that you no longer want, enter your e-mail below, and we'll send you the link!
What is New Pet Alerts?
Our New Pet Alerts feature is all about helping you fetch your purrr-fect new friend! We e-mail you when new pets are added that match your New Pet Alerts. Here's how it works:
You select the type of pet you're looking for using "Search Dogs", "Search Cats" or "Search Other" at www.Adopt-a-Pet.com. You can search for pets by distance from you, breed, color, sex, hair length, and age.
In the New Pet Alerts popup, type in your e-mail address.
When a pet matching your search is added to the site, we send you an e-mail with a photo and a link to see the info you need to go get your new friend.
It's that easy! You can save up to 15 New Pet Alerts, and you can cancel them at any time!