I am already spayed, housetrained, purebred, up to date with shots, good with kids, and good with dogs.
Storm's Story...
Hi, my name is Storm and I am a red smooth tweenie girl weighing approximately 17 lbs. I was born on July 14, 2003 on a potato farm in Germany. I was given up by my owner because my littermate sister & I did not like each other anymore, and began fighting constantly. However, I have done well with the male dachshunds in the family. Of all the dogs I have been exposed to while in foster care, the only one I didn't like on sight was another sable dachshund who resembled my sister. I have lived with young children and will do ok as long as the children are respectful of me. I LOVE women & will definitely bond immediately with the woman of the house. I'm not as fond of men, but do warm up after a few days if the man will completely ignore me until I come to him (and of course tasty treats will not be overlooked). I am house-trained as long as you don't leave me for long hours alone (my foster family works 8 hour days & I have been ok for this length of time). I am crate trained and love to be in my crate (I'm even quiet in there). I will sleep in my crate without making a peep, or I will sleep on my dog bed. Of course, I'd also love to sleep with you if you'll let me. I can really jump high, so I suspect something like a baby-gate or an x-pen would not confine me for long. I enjoy a fenced in yard to run, but I will walk well on a leash if a fence isn't available. In fact, I get very excited when I see the leash come out. I love to go for car rides too & will sit nicely in my crate while we're driving (except the occasional attempt to find China under my crate).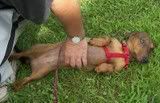 I am up to date on shots, although I am severely allergic to both the Bordetella Vaccine and to Penicillin. I am spayed and ready to find my new forever home. Please check back for updates on me!


Storm's adoption fee will be $225. If you are interested in adopting Storm, please click here to fill out our Adoption
Application. For more information about Storm, please email me.