**This information is current - when you email you can rest assured we will email back within 24hrs., but usually within an hour of receiving your email!**The rescue support donation is not for the 'purchase' of a dog, but rather to cover the medical and other costs of all dogs in our care. Shelter support donations are NOT NEGOTIABLE for that reason. Please respect that and do not email us to ask. Without ongoing support and adoption fees, our rescue WILL CEASE TO EXIST!**No phone calls, EMAIL ONLY, AlphaMom33@aol.com to get an application, thank you for understanding.**
**These dogs are in foster homes, not a shelter setting; therefore we only accept appointments for those reasonably sure they WILL adopt the dog for which they are applying.**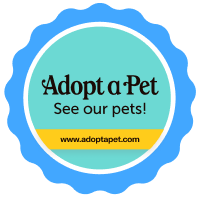 This is Cole! *if reading this on Petfinder, go to our site on Adopt-A-Pet - it is much easier to read (google us!)!**ALL the INFO we have on this pet is found right here in this BIO, thank you for understanding!
Breed: Black Lab x Springer Spaniel
Age: 5 yrs.
Energy: would like daily walks or romps, moderate exercise, nothing heavy duty required. Average level of activity.
Barking: fairly quiet
Size: large at about 70lbs.
Kids: over 6 yrs. please
Cats: he will bark at them, doesn't harm them
Dogs: yes, similar sized spayed female/neutered male
Health: excellent - no health issues, eats regular food.
Cole was relinquished to a kill shelter due to him being a cute puppy that people got on an impulse, that grew up with no training and they couldn't deal with him, so turned him in to the shelter.
Cole is a wonderful boy who needs a home with a securely fenced yard and an owner who wants him as a companion/in the house primarily.
He does not like being outside during thunderstorms but inside he is fine. He does not like gunshot noises.
He is crate-trained and housebroken and a well-behaved dog. He doesn't chew or destroy things but will dig if left to his own devices (as will many dogs!) Cole IS a polite and sweet dog.
Cole would be best in a moderately active home with ongoing activities like hiking or daily walks, no dog parks is preferred, and nothing strenuous required. Average energy level, unlike many Labs who need to go, go, go, Cole is fine being a housedog, and being quiet.
Cole had bad habits which consisted mainly of jumping up on people - which stemmed from being raised with no training. We've worked with him on this issue and, as with all training and all dogs, that work will need to continue.
There is a rehoming donation of $150 for Cole.
SEE MORE PICS AND INFO on our Facebook page - http://www.facebook.com/pages/A-PAW-UP-Rescue-E-WA/92163841238
EMAIL US - AlphaMom33@aol.com TO REQUEST AN APPLICATION-We WILL RESPOND within 24 hours (usually less!)

All adopters are required to pick up their new family member HERE, within a week of your application being completed and being approved to adopt. Because this is our home, we have LIMITED SPACE to keep dogs, THANK YOU for your understanding. The sooner an adoptable dog finds a home, the sooner we can rescue another!
****If you are unable to come adopt for longer than a week, a deposit ($50) and/or a $10/day donation towards boarding may apply!****
*Be aware that if you cannot adopt the puppy you've already placed a deposit on, you forfeit your deposit and it becomes a donation to our rescue.*
Thank you for your understanding.
**All our foster dogs and puppies have been vaccinated with Galaxy DA2PPv at least ONE TIME. When appropriate and available, they get a rabies vaccination, and they have been dewormed at least once. They come with a health record that reflects this at the time of adoption. They are also Microchipped and come with a free month of health insurance.**
No meet and greets take place without a completed/approved application. **We DO allow out of state adoptions, but we DO NOT ship our pets.
**These dogs are in foster homes, not a shelter setting; therefore we only accept appointments for those reasonably sure they WILL adopt the dog for which they are applying.**
The rescue support donation is not for the 'purchase' of a dog, but rather to cover the medical and other costs of all dogs in our care. Shelter support donations are NOT NEGOTIABLE for that reason. Please respect that and do not email us to ask.
**No phone calls, EMAIL ONLY- Alphamom33@aol.com, to get an application, thank you for understanding.**