**This information is current - when you email you can rest assured we will email back within 24hrs., but usually within an hour of receiving your email!**The rescue support donation is not for the 'purchase' of a dog, but rather to cover the medical and other costs of all dogs in our care. Shelter support donations are NOT NEGOTIABLE for that reason. Please respect that and do not email us to ask. Without ongoing support and adoption fees, our rescue WILL CEASE TO EXIST!**No phone calls, EMAIL ONLY, AlphaMom33@aol.com to get an application, thank you for understanding.**
**These dogs are in foster homes, not a shelter setting; therefore we only accept appointments for those reasonably sure they WILL adopt the dog for which they are applying.**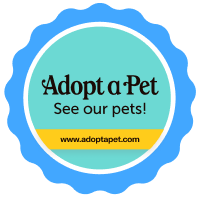 This is Abby! *if reading this on Petfinder, go to our site on Adopt-A-Pet - it is much easier to read (google us!)!**ALL the INFO we have on this pet is found right here in this BIO, thank you for understanding!
Breed: Rat Terrier/Toy Rat Terrier
Age: 6 yrs.
Energy: Lively, not hyper, playful and intelligent
Barking: Expect 'alert' type barking- letting you know when someone's at the door! Not an apartment type dog for this reason.
Size: X-Small - 8lbs. and very PETITE!
Kids: over 6 yrs. please for her safety
Cats: yes
Dogs: yes
Health: excellent
Abby is an emergency intake from Juneau, Alaska! Her owner could not afford treatment or other necessities so surrendered her to APUR.
Abby has had one witnessed grand mal seizure. She has been seizure free since, and was seemingly seizure free before that, but we believe she may have epilepsy. **Updated** Our vet thinks Abby may not need any medications, since her seizures are so infrequent. She's had 1 in the past 6 months. This could change so you need to prepare for that in case it does change.
If you are experienced with canine epilepsy, you are encouraged to apply, should you wish to make her a part of your life! You do need to be mentally prepared for the possibility of seizures in the future.
Abbs will be spayed Sept. 10th! She can go to a new home after that!
Abby is a sweet and smart, intelligent, polite dog, who needs a firm yet kind and gentle, loving owner.
She is housetrained, and loves to 'burrow' in her blankie on the couch or chair or dog bed. She will sleep readily on the bed with you.
She really deserves a FURever home after being passed around prior to arriving at her last owner's home. That owner cared for and loved Abby but was afraid of financial commitment (fixed income) so made the wise decision to surrender Abbs to us.
There is a $395 donation to help OFFSET the expense of flying Abby here from Alaska, and also spay and other veterinarian services.
SEE MORE PICS AND INFO on our Facebook page - http://www.facebook.com/pages/A-PAW-UP-Rescue-E-WA/92163841238
EMAIL US - AlphaMom33@aol.com TO REQUEST AN APPLICATION-We WILL RESPOND within 24 hours (usually less!)

All adopters are required to pick up their new family member HERE, within a week of your application being completed and being approved to adopt. Because this is our home, we have LIMITED SPACE to keep dogs, THANK YOU for your understanding. The sooner an adoptable dog finds a home, the sooner we can rescue another!
****If you are unable to come adopt for longer than a week, a deposit ($50) and/or a $10/day donation towards boarding may apply!****
*Be aware that if you cannot adopt the puppy you've already placed a deposit on, you forfeit your deposit and it becomes a donation to our rescue.*
Thank you for your understanding.
**All our foster dogs and puppies have been vaccinated with Galaxy DA2PPv at least ONE TIME. When appropriate and available, they get a rabies vaccination, and they have been dewormed at least once. They come with a health record that reflects this at the time of adoption. They are also Microchipped and come with a free month of health insurance.**
No meet and greets take place without a completed/approved application. **We DO allow out of state adoptions, but we DO NOT ship our pets.
**These dogs are in foster homes, not a shelter setting; therefore we only accept appointments for those reasonably sure they WILL adopt the dog for which they are applying.**
The rescue support donation is not for the 'purchase' of a dog, but rather to cover the medical and other costs of all dogs in our care. Shelter support donations are NOT NEGOTIABLE for that reason. Please respect that and do not email us to ask.
**No phone calls, EMAIL ONLY- Alphamom33@aol.com, to get an application, thank you for understanding.**