**This information is current - when you email you can rest assured we will email back within 24hrs., but usually within an hour of receiving your email!**The rescue support donation is not for the 'purchase' of a dog, but rather to cover the medical and other costs of all dogs in our care. Shelter support donations are NOT NEGOTIABLE for that reason. Please respect that and do not email us to ask. Without ongoing support and adoption fees, our rescue WILL CEASE TO EXIST!**No phone calls, EMAIL ONLY, AlphaMom33@aol.com to get an application, thank you for understanding.**
**These dogs are in foster homes, not a shelter setting; therefore we only accept appointments for those reasonably sure they WILL adopt the dog for which they are applying.**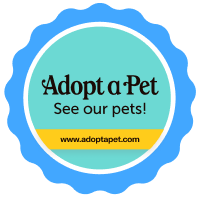 This lovely older gal is Lady! *if reading this on Petfinder, go to our site on Adopt-A-Pet - it is much easier to read (google us!)!**ALL the INFO we have on this pet is found right here in this BIO, thank you for understanding!
Breed: Jack Russel/Fox Terrier mix
Age: 8-10yrs.
Energy: easy going but enjoys play and walks
Likes: Warm weather, being lazy, being feisty
Loves: attention, petting, her people
Dislikes: Being cold!
Barking: Will readily alert bark
Size: 20lb. and very solid, 100% terrier
Kids: over 8 yrs please, no history on her with younger kids-we don't suspect problems but would rather be cautious, that said, she liked our 7-yr-old granddaughter who is respectful of dogs
Cats: unknown
Dogs: yes, but as a terrier she can be feisty so you may need experience refereeing! Lady is not overly aggressive but can be snappish and if the other dog takes offense, Lady will back off quickly - her mouth writes big checks her body cannot cash!
Health: Lady has insulin-dependent diabetes, and has developed some cataracts as a result of her diabetes being poorly managed at some point before she landed in rescue. Despite that, she can see fairly well still, and you often have to remind yourself she's vision impaired.
Lady is one of the SWEETEST dogs we've met in rescue, loves ear scritches/rubs, kisses and snuggles and adores her humans!
Lady needs a loving FURever home to care for her medical needs.
Lady is an active and happy girl who just plain deserves a loving home after her family abandoned her at a small kill shelter. That shelter subsequently contacted us to see if we'd take her - of course we said YES! Lady did not deserve to die because her owners no longer wanted the responsibility of caring for her! Her intake papers merely say 'unwanted' and that, to us, is so very sad. Lady deserves to be WANTED and LOVED!
Please have experience with diabetic dogs and have no issues paying for ongoing treatment for her diabetes (surprisingly inexpensive). Lady needs blood sugar checks, quality food, and insulin injections 2x a day. Insulin runs around $15/mo. from Walmart, and needles are inexpensive. You don't even need a prescription to purchase the insulin! And she'll come with some already since we just got a new bottle.
Lady has experienced a blood sugar crash in rescue so someone who can be with her all or most the day would be best - when you are away you can give her some healthy biscuits for 'just in case'.
Adoption donation of $100 to the right FURever home but she must continue treatment for the rest of her life. This runs around $15-20 per month for glucose, test strips, insulin and needles.
SPECIAL NOTE: If you like Lady and love JRTs but can't adopt, APUR can alway use donations to continue her insultin injections and bloodworks! Email ALPHAMOM33@aol.com to find out how to donate!
SEE MORE PICS AND INFO on our Facebook page - http://www.facebook.com/pages/A-PAW-UP-Rescue-E-WA/92163841238
EMAIL US - AlphaMom33@aol.com TO REQUEST AN APPLICATION-We WILL RESPOND within 24 hours (usually less!)

All adopters are required to pick up their new family member HERE, within a week of your application being completed and being approved to adopt. Because this is our home, we have LIMITED SPACE to keep dogs, THANK YOU for your understanding. The sooner an adoptable dog finds a home, the sooner we can rescue another!
****If you are unable to come adopt for longer than a week, a deposit ($50) and/or a $10/day donation towards boarding may apply!****
*Be aware that if you cannot adopt the puppy you've already placed a deposit on, you forfeit your deposit and it becomes a donation to our rescue.*
Thank you for your understanding.
**All our foster dogs and puppies have been vaccinated with Galaxy DA2PPv at least ONE TIME. When appropriate and available, they get a rabies vaccination, and they have been dewormed at least once. They come with a health record that reflects this at the time of adoption. They are also Microchipped and come with a free month of health insurance.**
No meet and greets take place without a completed/approved application. **We DO allow out of state adoptions, but we DO NOT ship our pets.
**These dogs are in foster homes, not a shelter setting; therefore we only accept appointments for those reasonably sure they WILL adopt the dog for which they are applying.**
The rescue support donation is not for the 'purchase' of a dog, but rather to cover the medical and other costs of all dogs in our care. Shelter support donations are NOT NEGOTIABLE for that reason. Please respect that and do not email us to ask.
**No phone calls, EMAIL ONLY- Alphamom33@aol.com, to get an application, thank you for understanding.**