**This information is current - when you email you can rest assured we will email back within 24hrs., but usually within an hour of receiving your email!**The rescue support donation is not for the 'purchase' of a dog, but rather to cover the medical and other costs of all dogs in our care. Shelter support donations are NOT NEGOTIABLE for that reason. Please respect that and do not email us to ask. Without ongoing support and adoption fees, our rescue WILL CEASE TO EXIST!**No phone calls, EMAIL ONLY, AlphaMom33@aol.com to get an application, thank you for understanding.**
**These dogs are in foster homes, not a shelter setting; therefore we only accept appointments for those reasonably sure they WILL adopt the dog for which they are applying.**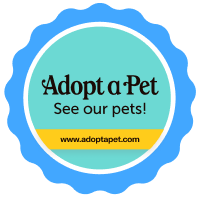 Meet Peppy! *if reading this on Petfinder, go to our site on Adopt-A-Pet - it is much easier to read (google us!)!**ALL the INFO we have on this pet is found right here in this BIO, thank you for understanding!
Breed: appears to be a purebred Parti- Pomeranian
Age: 8-10yrs. (lifespan of up to 16 years easily!)
Energy: lively and active, playful
Barking: will alert bark
Size: Small at 13 lbs. and a tad overweight
Kids: over 12 years please
Cats: Unknown
Dogs: He's fine with other dogs but he is terrified of them- a home with 1 or no other dogs would be preferred, but either way, a dog that keeps to itself would be most comfortable for him.
Health: excellent
THIS is Peppy!
He's a very active, outgoing and friendly, happy Pomeranian!
He's a little overweight at 13lbs. but appears to be all or mostly Pom. He certainly has the temperament of one - he is happy and outgoing and loves his humans!
Peppy lived in a car - yes, a vehicle - with his mama and canine friend.
His mama had to go to the hospital and Peppy and his canine companion were taken to the shelter.
Peppy was there for nearly a month, but his coat was in such disarray that nobody could appreciate him.
APUR noticed Peppy and asked if they could rescue him, and the shelter was happy to send him here!
Peppy has had his teeth cleaned and he's been treated for external and internal parasites. He will have a microchip at the time of adoption and also come with a free month of health insurance!
He's very healthy and has a lot of years left in him despite his age of '8-10years'.
When you meet him you'll never guess he is an older gentleman - he is spry as a spring chicken and can be very active, but he does like naps, as well!
Peppy does *not* like being groomed but grooming must take place with this type coat (his former owner was not nice about how she groomed him) This type coat should never be shaved, as it lends so much protection to the dog in the heat as well as the cold. If a Pomeranian is shaved, they cannot tolerate warm or cold temperatures. PLEASE know about this type coat if you plan to adopt - and have a plan to get him groomed with an EXPERIENCED and loving groomer or a plan to brush and care for his coat yourself. ***UPDATE*** We've been practicing grooming exercises with Peppy and we have accomplished bathing and brushing with plenty of patience and chicken treats. Things are going quite well but you must be open to learning how to groom him with the least amount of stress possible! We'll show you what's working here!
Please consider giving Peppy a new home today!
There's a donation of $200 to add Peppy to your home!
SEE MORE PICS AND INFO on our Facebook page - http://www.facebook.com/pages/A-PAW-UP-Rescue-E-WA/92163841238
EMAIL US - AlphaMom33@aol.com TO REQUEST AN APPLICATION-We WILL RESPOND within 24 hours (usually less!)

All adopters are required to pick up their new family member HERE, within a week of your application being completed and being approved to adopt. Because this is our home, we have LIMITED SPACE to keep dogs, THANK YOU for your understanding. The sooner an adoptable dog finds a home, the sooner we can rescue another!
****If you are unable to come adopt for longer than a week, a deposit ($50) and/or a $10/day donation towards boarding may apply!****
*Be aware that if you cannot adopt the puppy you've already placed a deposit on, you forfeit your deposit and it becomes a donation to our rescue.*
Thank you for your understanding.
**All our foster dogs and puppies have been vaccinated with Galaxy DA2PPv at least ONE TIME. When appropriate and available, they get a rabies vaccination, and they have been dewormed at least once. They come with a health record that reflects this at the time of adoption. They are also Microchipped and come with a free month of health insurance.**
No meet and greets take place without a completed/approved application. **We DO allow out of state adoptions, but we DO NOT ship our pets.
**These dogs are in foster homes, not a shelter setting; therefore we only accept appointments for those reasonably sure they WILL adopt the dog for which they are applying.**
The rescue support donation is not for the 'purchase' of a dog, but rather to cover the medical and other costs of all dogs in our care. Shelter support donations are NOT NEGOTIABLE for that reason. Please respect that and do not email us to ask.
**No phone calls, EMAIL ONLY- Alphamom33@aol.com, to get an application, thank you for understanding.**