I am already neutered, up to date with shots, good with kids, and good with cats.
Speedracer's Story...
After cuddling all night with my foster mom I'm the first one down the stairs for breakfast. I can't wait to get my breakfast and play with her and my siblings. Then when I'm all tired out I cuddle up with my brother or one of my sisters if my mom is gone. If she sits down in her chair to read the paper I'm right there in her lap or beside her. I especially like Abracadabra (well...Abby for short) my black sister. She's really fun to romp and play with. I also have kittens Grayson and Tucker for friends. I do need a young playful cat for a playmate or another kitten. I would be very unhappy by myself.
>
The best verbs to describe this little love are sweet and snuggle bug. I got him when he was 4 weeks old and bottle fed him so he's really bonded to people. All I have to do is look at him and he purrs. He snuggles up by my neck and he rubs his little face against my neck and cheek. Purr, purrrrrr, purrrrrrrrr as he immediately starts his motor when I pick him up and he looks right into my eyes. He is a total fur ball of love. He totally loves my six year old cats and runs up to them and rubs himself under their chins and against their chest. He has a sister, Abracadabra, who is exactly as wonderful if you want a pair.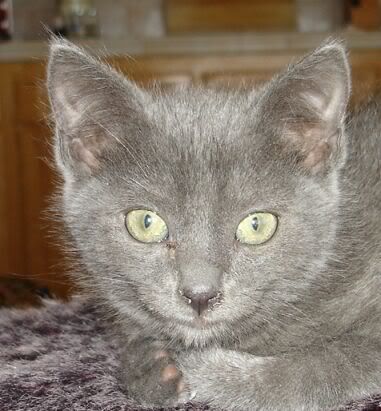 Fostered in my home with my own kitties, neutered, tested negative for FeLV/FIV, current on shots, microchipped, dewormed and flea free.