Hello! My name is Pretty Girl
I found a new home!
Plenty of my friends are looking for one too. Find a pet to adopt.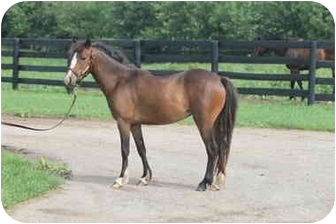 Other Pets at Shelter...
Pretty Girl's Info...
Breed:
Gaited/Pony - Shetland Mix
Color:
Bay
Age:
Young
Size:
Small
Sex:
Female
Pretty Girl's Story...
Breed: Pony
Color: Bay
Age: 2 yr..
Gender: Filly
Height: 44"
History: Unknown
Suitability: Driving
Personality: Pretty Girl is an adorable Hackney/Shetland cross pony who is looking for a home with someone who can work with her on her ground manners and training. She is a beautiful mover and will make a great driving prospect. Pretty Girl is learning ground manners very quickly and is quiet for grooming. She is currently turned out with two other mares and is easy to catch.
Shelter Info...
About Our Shelter...
Mission Statement
To provide humane treatment and shelter while working as a clearinghouse
to seek adoptive homes for all of Kentucky's unwanted equines, regardless of breed.
To educate the public and raise awareness for responsible
equine ownership so that fewer horses end up in crisis.
To work with and serve as a model for organizations with the same mission
in other states: to save America's equines from inhumane treatment.
Come Meet Our Pets...
Open House/Adoption Day
Every thrid Saturday of the month from 10:00 am to 3:00 pm.
Our Adoption Process...
Adoption Process
KyEHC will not process any application unless the required photos, proof of residence and application fee are included.
Once an application is received, KyEHC will begin the screening process. This usually takes about 2-3 days, depending upon how easy it is to make contact with your references.
KyEHC will notify you when your application has been approved and you may then make an appointment with KyEHC to visit the equine(s) you are interested in adopting.
All adopters must sign an Equine Adoption and Placement Agreement and pay the adoption fee before the equine leaves KyEHC.
Adopters are responsible for transportation arrangements and costs at the time of the adoption and in the event of return.
After the Equine Adoption and Placement Agreement is signed, you must pick up the equine from KyEHC within 5 days from the date on the Agreement.
Adoption fees are non-refundable.


Terms of the Equine Adoption and Placement Agreement

The equine may not be raced, bred, sold, given away, assigned or disposed of, nor may any interest in the equine be transferred. The Adopter may only release the equine from his/her care to KyEHC for one year.
Transportation arrangements and costs are the responsibility of the adopter at the time of placement and in the event of return.
KyEHC has the right to visit the property where the equine resides. If, in the sole discretion of KyEHC, it is determined that the living arrangements and/or care of the equine are inadequate or inappropriate, KyEHC reserves the right to seize and re-take possession of the equine.
If the Adopter changes the location of the equine or changes the equine's veterinarian, KyEHC must be provided with the new stabling and veterinarian information within 30 days of said change. In addition, the Adopter agrees to provide KyEHC with any change in his/her address within 30 days of said change.
The Adopter agrees to forward a veterinarian's brief statement of the adopted equine's residence, general condition, weight, teeth and hoof condition (a brief health check form will be provided by KyEHC for this purpose twice a year). This form is to be returned to KyEHC six months from the date of adoption and on the one year anniversary of the adoption date.
Any equine returned to KyEHC must possess a current negative coggins and health certificate, which is the responsibility of the Adopter to provide
We Serve the Following Cities, Towns, and/or Counties...
Any equine in the State of Kentucky.