Hello! My name is Babar And Celeste
I found a new home!
Plenty of my friends are looking for one too. Find a pet to adopt.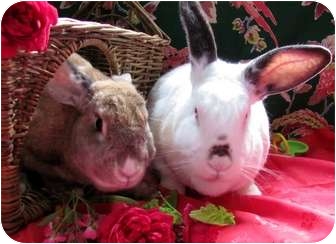 Other Pets at Shelter...
Babar And Celeste's Info...
| | | | | | |
| --- | --- | --- | --- | --- | --- |
| Breed: | Californian Mix | Color: | White | Age: | Adult |
| Size: | Standard | Sex: | Male | Hair: | Short |
Babar And Celeste's Story...
Babar and Celeste Hi! I'm Babar, and I want to tell you about myself and my girlfriend, Celeste! We are very sweet and loveable bunnies, but we have a big problem. You see, our last owners brought us back to the Friends of Rabbits people because the wife got pregnant, and her husband didn't want to help with our litter box. Yeah, we rolled our eyes, too, but now we need a home. A really great home, with loving people who will care about us forever. Especially for Celeste, because she has actually been through three homes plus several foster homes. No bunny should have to be rehomed so many times!
Celeste is the sweetest rabbit ever! For a bunny who has been moved around so much, Celeste is remarkably well-adjusted. She is a little shy, but when she gets used to you she is a real angel. I think youÂ'll agree she is just like a little storybook bunny come to life. Celeste is very polite, good with her litter box, and is quite a dainty little girl.
I, on the other hand, am kind of a moose! IÂ'm a big, burfy kinda guy who likes to stick my humongous nose into everyone's business! IÂ'm not at all shy and am easy to handle, but you must be careful picking me up to support my back. I enjoy massages and all kinds of neck and ear rubs and basically I am a lovebug. I like everyone! Fine dining is something I truly enjoy, especially with Celeste by my side. In fact, we run to our fosterer to see what gourmet treats she might have. Craisins are my favorite!
We are in good health, although I could probably stand to, ahem, slim down a bit. We have no bad habits, although like all rabbits we do need lots of toys to keep us busy. So how about it? Would you like to give two wonderful bunnies the forever home we so badly deserve? You won't be sorry!
And now, a message from Huntsville Friends of Rabbits:
For more information on our group please go to: www.huntsvillefriendsofrabbits.com
Our adoption policies:
The adoption fee is $50 which helps defray the considerable costs of spay/neuter, other veterinary expenses, food, and equipment. All of our rabbits have received a full vet check up and are spayed/neutered. We adopt only to indoor homes, and prefer adult-only homes. We do not adopt rabbits as pets for children. We consider homes with older children, dogs or ferrets on a case-by-case basis.
If you are over 21 and have the time, energy, love and financial resources to care for a rabbit (not to mention a good sense of humor!) we would be happy to talk to you about adopting one of our fabulous foster bunnies! Please email us at huntsvillebunnies@hotmail.com and tell us a little about yourself, including why you would like a bunny and your previous experience with rabbits (if any). Please include your phone number so we may call you about the adoption.
Please note we are a little picky – we love these bunnies and since they have already been through the shelter once we want to make sure they have a great home the second time around! We do screen applicants carefully, as well as require a home visit. We adopt only within a five hour drive of Huntsville, AL.
Rescue Group Info...
About Our Rescue Group...
We are a group of bunny lovers in the Huntsville, Alabama area. We help the shelters in Madison county with bunnies that come in to them, and we also educate the public on rabbit behavior and care. Everyone in our group is a volunteer - we have no paid employees and we do what we do just because we love rabbits. We are proud to be a 501 c 3 organization, and all donations to us are tax deductable.
Come Meet Our Pets...
Check out our Facebook page and website and blog for dates and times of our adoption and educational events.
http://www.facebook.com/HuntsvilleBunnies
www.huntsvillefriendsofrabbits.com
http://huntsvillefriendsofrabbits.blogspot.com
Our Adoption Process...
We love our bunnies at Huntsville Friends of Rabbits and since they have already been through the shelter once we want to make sure they have a great home the second time around. We have invested a great deal of time, energy and money and love into the bunnies we rescue, and so we want to be assured that they will get the very best of care in their new homes. It is for this reason that we have the following adoption policies:
• We only adopt to indoor homes. Domestic rabbits should never be kept outside.
• Adopters must be 21 or older.
• We prefer to adopt to adult-only homes. We do not adopt rabbits as pets for small children (under age nine). We consider homes with older children, however, the primary caretaker for the bunny MUST be an adult, and the bunny must be wanted by the whole family! Please be aware that 95% of the bunnies we rescue were pets for young children, and were brought to the shelter because the child tired of them and the parents did not want them.
• Homes with dogs or ferrets are considered on a case-by-case basis.
• We do not adopt rabbits to be residents of petting zoos, as classroom bunnies, or as props for photographers at Easter.
• We expect our adopters to take their bunny to a rabbit-savvy veterinarian for regular check-ups as well as when sick, and to be willing to spend the money for quality vet care. We have lots of great information on local vets and health care and will be happy assist you finding the best options for you and your rabbit.
• Special needs bunnies will only be adopted to people who are experienced
in bunny care and who are financially able to provide the vet care these bunnies need.
• Applicants are screened carefully, and we make a home visit to ensure your home is bunny-ready.
Please note that our adoption fee is $50 per rabbit or $80 for a bonded pair of rabbits. This fee helps our group with spay/neuter costs. All of our rabbits have received full vet check ups and are spayed/neutered before adoption.
If you think that you would be a good adopter we would love to talk to you about our fabulous foster bunnies! Please contact us at huntsvillebunnies@gmail.com. Include your phone number and tell us more about yourself and your interest in rabbits. We will call you as soon as possible to discuss the adoption process.
We look forward to hearing from you - and so do our bunnies!
We Serve the Following Cities, Towns, and/or Counties...
Huntsville and Madison County, Alabama