Hello! My name is Ash
I found a new home!
Plenty of my friends are looking for one too. Find a pet to adopt.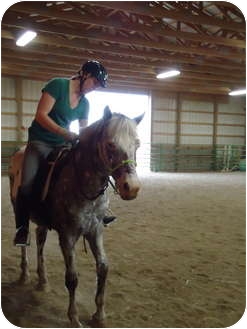 Other Pets at Shelter...
Ash's Info...
Breed:
Appaloosa/Pony - of America Mix
Color:
Appy
Age:
Adult
Size:
Medium
Sex:
Male
Ash's Story...
**Please click on our organization name "Circle P Sanctuary and Ranch" for more information on adoption policies and fees** ____Ash History____ Ash was surrendered to us in December of 2011. He was seen by The Ohio State equine veterinary team and has been doing great. We have been told that Ash is a great riding and trail horse. After spending some time in foster care, Ash was moved to the equine center to begin evaluation. ___Ash Current_____ Ash is a friendly horse that gets along well with other horses, although we have had to separate him from the mares. He is a bit nervous at times around humans and we are working with him every day to re-establish his trust in people and he has really come around. He came to us underweight and with skin issues. Now that he is healthier and is shedding out his winter coat, Ash is starting to look a lot better. Along with continued groundwork, Ash has also accepted saddle and a bitless bridle without a fuss. He does still have some anxiety about allowing us to work around his mouth (such as accepting the bit and de-worming). He has been ridden in our indoor at a walk and trot with a bit less bridle and behaved well. Ash was taken into OSU for surgery on his right hock due to persistent swelling. At OSU, it was discovered that Ash had sustained an injury to that hock for a long period of time. His prognosis is good-fair and is still expected to be fine as a light riding horse. Since his recovery, Ash has taken back to under saddle work easily (although he can be lazy at times). He even maintains his calm demeanor while out on the trails through the woods and streams.
___Ash Future___ Ash has great promise as your next trail or show horse, as long as he is not pushed too hard. He has been responsive and kind while we work with him, and has really become a friendly and people orientated horse. Ash is looking for a home that is willing to work with him as he continues his under saddle work. Ash will likely always have some arthritis and swelling in his hocks, but it can be easily managed with a daily supplement or hock injections. He is best suited to a home looking for a light pleasure or trail horse.
Rescue Group Info...
About Our Rescue Group...
When the Circle P Sanctuary, Inc. applied for Recognition of Exemption under Section 501©(3) of the Internal Revenue Code, we needed to state our Mission. We claimed three as follows:
1. Provide safe, clean and comfortable temporary to permanent shelter for unwanted, lost, abandoned, stray or abused animals/horses, and to place animals/horses for adoption with caring individuals and families;
2 Educate the community on the importance of spaying/neutering all animals as it relates to overpopulation and animal health, and on other issues relating to the humane treatment of animals; and
3. Work with humane societies and other animal shelters toward furthering the common goal of humane treatment of all animals.
The Circle P Sanctuary, Inc. has created an environment conducive to serving large animals, concentrating predominately on horses. We have a total of 96 acres that is utilized for the benefit of the animal residents living at the Sanctuary.
Come Meet Our Pets...
The Circle P Sanctuary hosts several fund raising and educational events throughout the year. We have two locations that adjoin each other. The Receiving Center (located at 1909 County Road 24, Marengo, OH 43334)serves as the quarantine area for all incoming horses, as well as the non-equine residents.
The Equine Center (located at 2013 County Road 24, Marengo, OH 43334) serves as the home for all horses ready for adoption, as well as horses living the rest of their natural lives out to the fullest. We offer visits by appointment or every third Sunday of the month during our Open Barns.
Our Adoption Process...
CIRCLE P SANCTUARY, INC.
ADOPTION APPLICATION
The Circle P Sanctuary, Inc.(CPS) takes the responsibility of placing horses into new homes very seriously. It is not a process we will rush through as we believe this is to be a lifelong decision for the animal involved. The CPS will work closely with prospective adopters to ensure that both the adopter and the horse/animal being adopted is well suited to each other. It is important to know that the CPS does not allow horses being adopted to be bred, resold or given away.
The housing facility must be approved through the CPS. The horse must not be relocated without the knowledge and approval of the CPS. This is not intended to be a difficult procedure, but a thorough one that is essential to the well being of the horse.
If for any reason the horse can no longer remain with the adopter, the CPS requires the horse be returned to the CPS. If there is a potential new adopter interested (recommended by the original adopter), the CPS will strive to make that arrangement possible through following our adoption process. The CPS may waive any new adoption fee when the new adopters are approved.
Finally, because horses are herd animals and require companionship, the CPS requires adopted horses live with at least one other horse.
OVERVIEW OF THE CIRCLE P SANCTUARY, INC. ADOPTION PROCESS
1. Return to the Circle P Sanctuary, Inc. (CPS) completed and signed adoption application, including this cover letter and photos. Applicant must be at least 25 years old who will be entering a legally binding contract upon completion of the adoption process. A $10.00 processing fee is due with the completed application.
2. The CPS will review the application and determine if the Sanctuary has a potential horse that fits the adopters needs. If the CPS has a potential match, or adopter would like to see a specific horse available, the adopter must schedule an appointment with one of our trainers to work with the horse. The intention of this appointment is to ensure the safety of both the potential adopter and the horse.
3. If the potential adopter is interested in the horse they worked with, and the CPS agrees that they are capable of working safely together, additional appointments will be scheduled. The CPS requires no less than 3 working sessions between the prospective adopter and horse being adopted. The CPS may require additional sessions, prior to moving forward with the adoption process. The CPS will contact the references listed on the application at this time.
4. Once the working sessions are completed, and a suitable match has been made, the CPS will arrange to visit the potential new home. It is important to the CPS that the property where the horse will live is staffed with a person that has a good understanding in the general care, management and feeding of the specific horse/animal being adopted. Fencing, buildings and pastures must be safe, clean and free of debris. We prefer horses have full access to a field with a run-in shed, however an enclosed area must be available in case of illness or injury.
5. Upon completion of the housing inspection and reference check, the CPS will evaluate all information provided and make a decision. The CPS may approve or disapprove adoptions. The CPS will address any concerns that may be easily corrected. However, the CPS reserves the right to deny adoption for any reason, in its sole discretion, and is not obligated to state any reason.
AFTER APPROVAL OF ADOPTION
1. An Adoption Contract will be completed with terms and conditions as determined by the CPS.
2. A donation of $500.00 will be made to the CPS. This donation will be utilized by the CPS to rescue, rehabilitate and care for unwanted horses/animals. This is a non-refundable donation. The Circle P Sanctuary, Inc. is a Non-Profit Organization that has been determined to be exempt from Federal income tax under section 501© (3) of the Internal Revenue Code. Contributions made to the Circle P Sanctuary, Inc. may be tax deductible under section 170 of the Code. Please consult your tax advisor for further information.
3. The CPS reserves the right to transport the adopted horse/animal to it's new facility for a nominal fee of $.50/mile roundtrip.
4. The CPS reserves the right to make either scheduled or unscheduled visits to follow-up on the adopted horse and its facility at any time. The adopter is required to respond to all mandatory update communications.
Thank You for giving the Circle P Sanctuary, Inc. the opportunity to place a kind, deserving animal in your care. You are making a very important impact in the lives of future horses in need by contributing to the Sanctuary and it's work.
We Serve the Following Cities, Towns, and/or Counties...
We are located in southern Morrow County, OH, and are willing to travel up to 5 hours in any direction to facilitate an adoption of one of our beautiful deserving horses.