Meow! My name is Foldimort
I found a new home!
Plenty of my friends are looking for one too. Find a pet to adopt.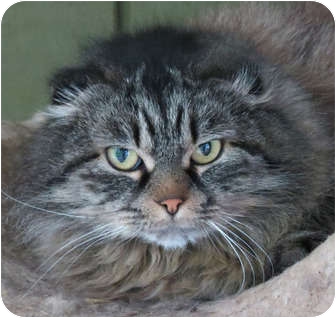 Other Pets at Shelter...
Foldimort's Info...
Breed:
Scottish Fold
Color:
Brown Tabby
Age:
Adult
Sex:
Male
Hair:
Long
Foldimort's Story...
Foldimort. Brown Tabby Scottish Fold Manx. Unknown age.
Contact foster mom for adoption fee.
In March 2011 we got an urgent notice about a breeder in Arizona who was being evicted from her home. On the property were nearly 95 cats. They had been left there for over a year with just a caretaker coming in to feed & water them. They were mostly unsocialized, but we were told
that there was a good chance they could become loving kitties with some time and TLC. Most were in good health, with just some minor things such as ear mites, that needed treatment.
Purebreds Plus took in taken in 11 of them.
One year later we still have three of these cats in foster care. This cat is one of them. He has
made a complete fool of his foster mom who has tamed feral cats since she was a child. He is the most spoiled rotten feral cat we've ever seen. At least we think it's a "he". It could be a she. We can't get close enough to look under the hood and figure it out. When Foldimort and his 10 buddies got here from Arizona we made some assumptions based upon our previous success. Most often, even if a cat is hissing and spitting, we can turn them around by a simple process. We cage them and give them a very small hiding place within the cage. Daily we feed them and give wet food treats. Within a matter of days or just a couple of weeks, they begin to come to the front of the cage in anticipation of their daily treats. Over a few weeks we begin touching them, especially when they eat their wet food treats. This is operant conditioning 101. Nothing really high tech, no reason to get a special "cat behaviorist title" to figure this stuff out. We've done it
literally hundreds of times.
With this group of cats that system wasn't working. They were absolutely petrified of handling to the point that they would injure themselves in the cage trying to throw themselves away from us. Finally we turned them loose in a small, safe feral colony and tried the Tough Love technique.
This boy went straight to the back of the property and hid out in an outbuilding. We weren't sure if he was eating for the first few days but then we got a flash of him one night. Usual a feral cat gets pretty bold once they know where the food is. They will come right up to the back porch and eat the food and not worry if they catch sight of us from within the house. Foldimort was the most frightened of humans we've ever seen. If he caught any movement or the sight of us, even if we were in the house, he would race the 200 feet to the back of the property. He never stopped. He moved fast, especially considering he's got some scottish fold type joint problems in his back legs and he actually limps pretty badly.
Over a period of several months, Foldimort began gaining confidence in his surroundings. He would race but not go all the way, then he'd not do too much running until we actually came outside. After nearly a year he figured out that we weren't going to hurt him and that we were actually very willing slaves and a regular food source for him. Now he lives on the back porch in a cat tree. If he gets scared he has a special hiding place under the woodshed. In the evening if we are late with dinner he sits and looks into the back sliding glass door. He meows. When he sees us looking at him from anywhere in the house he hisses at us. When we come outside he get to within two feet of us and hisses at us again, but is really just tapping his foot wondering what is taking so long. Just a couple of times we've been able to reach down and touch him while he eats but he got smart to that pretty quickly and now stays away from the food dish until we get far enough away that he feels safe.
We feel that if someone was able to take him back into a more confined situation and did some more controlled conditioning that he would actually turn into a pretty friendly guy. All of these cats started out the same; we just can't figure out why this particular cat has remained so fearful and repelled by human touch. We are offering him a chance to come inside the house. He will come to the back door and watch the other cats on the inside, but he just won't come through the door. He's peeked inside a couple of times but just won't take the plunge.
Foldimort is available to a home that is willing to accept him as he is. We would also love it if someone wanted to offer him a lifetime in a safe barn situation. We think he'd be just as happy there as he would in a household right now. Best if he's with another cat to keep him
company, though.
Email info@purebredsplus.org if you are interested in offering this guy a safe lifetime situation.
Rescue Group Info...
About Our Rescue Group...
Purebreds Plus Cat Rescue is dedicated to the rescue, rehabilitation, and rehoming of purebred and other exceptional cats.
Our mission is to educate pet owners, breeders, and shelters about our breeds, and to place our cats with Forever Families who will give them the proper care and love they deserve. We carefully match cats with their Forever Families by evaluating each cat's personality, temperament, and special needs. Then we determine the best fit for both the cat and the new family. Please note that we do NOT ship cats.
Our adoption fee is $175 unless otherwise noted. This fee allows us to provide excellent vet care for the cats that really need it. The healthy kitties make it possible for the sick ones to be saved.
Come Meet Our Pets...
Our cats are neutered or spayed, vaccinated and FELV/FIV negative. We are not a shelter. All of our cats are fostered in private homes. We ask that anyone wanting to meet one of our cats first fill out our online application. These cats are treated like members of our family, and we want to ensure that you will do the same.
When you adopt from Purebreds Plus Cat Rescue, you are saving TWO lives - the cat you adopt and the cat who gets to take its place in Rescue!
Our Adoption Process...
READY TO ADOPT?
First, call the name of the foster mother if you are interested in an individual cat. Once you've chatted, she will ask you to fill out our easy online application. Just "Click to submit"! Next, one of our wonderful volunteers will quickly contact your veterinary and personal references. Then they will give you a call to chat and answer any questions or concerns you may have about the adoption process. Once approved we will help you set up a time to come and meet the kitty or kitties you want. If it's a good match all around you will be asked to sign a contract and pay the adoption fee and you can take the kitty home that very day.
Our adoption fee is $175. That includes the kitty, spayed/neutered, up to date on vaccines, tested for FIV/FELV.
We do not ship pets, however, you are welcome to put in an application and once approved make plans to come out and meet the kitty and fly it back with you.
We Serve the Following Cities, Towns, and/or Counties...
Northern California