Facts about gwenimere
Breed: Domestic Shorthair
Color: Tortoiseshell
Age: Young
Sex: Female
Hair: Short
My name is gwenimere!

Important Note
gwenimere is best friends with
simmy
. Please adopt both of them so they can stay together!
gwenimere's Info...
I am already spayed, up to date with shots, and good with cats.
gwenimere's Story...
LEAVE MESSAGE WITH YOUR PHONE NUMBER WE WILL CALL BACK WITHIN 5MIN OR LESS
CALL 718-795-3880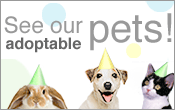 R
press our link to see pets at our place
she is a very sweet cat loves to head butt and nuzzle her face into yours and cries for you to give her attention she likes to talk SHE IS VERY LOVABLE SHE CAN BE ADOPTED WITH OnE OF HER BUDDIES or with someone retired or working at home.She is a lover sure to make you smile and be glad you adopted her

About Amazing Animals Rescue and Adoption - Whitestone Chapter
About Our Rescue Group...
We find good homes for abandoned animals. We trap and spay or neuter animals if they are not already. For those that are friendly, we find suitable homes and for those who aren't we release them to their original homes. We also help those who are unable to keep their animals due to illness, death, and other situations in which they can not maintain their animals. All our animals are up to date on vaccination, tested and negative for feline AIDs and Leukemia and feline parasites, treated for fleas, and spayed/neutered. Adoption donations covers part of these medical fees and we cover the rest. Animals that are too young to receive any of these will be given a certificate for when they are ready to. We work on donations to cover medical bills, food and other care needs. All donations get written to our veterinarians that supply care and services. Most of us have full-time jobs and this is a side job that we devote our free time to. We spend all spare time trapping, working on adoptions and pay out of pocket for many of the expenses involved with animal rescue in hope that we can do some good for the animal population. For all those who think we need to get a life- look outside your window and if you don't have animals suffering over-population, hunger, or injury you can thank all rescuers. I am dedicating all my hard work in rescue and adoptions to the memory of Edee Gaffney and her 17 AMAZING ANIMALS who are all in homes now. Now you can rest in peace. If it wasn't for you there would be one less rescue don't worry I WONT EVER GIVE UP ON THE ANIMALS!
Our Adoption Process...
Application must be filled out, there is an adoption fee, a veterinary reference must be provided.
CALL 718-795-3880 OR EMAIL US AT Amazinanimals17@aol.com
YOU CAN ALSO LIKE US ON Facebook.com/michelerescue
to get to our page (TYPE IN YOUR BROWSER)