Ruff Ruff! My name is Stryder - Ready for Adoption!
Help me get seen and adopted!

Pin It
---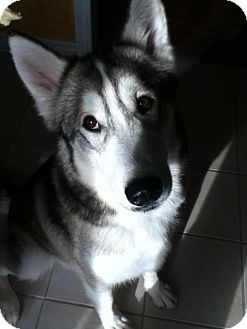 Stryder - Ready for Adoption!'s Info...
Breed:
Alaskan Malamute/Husky Mix
Color:
Gray/Silver/Salt & Pepper - With White
Age:
Young
Size:
Large 61-100 lbs (28-45 kg)
Sex:
Male
I am already neutered, housetrained, a special needs pet, in need of an experienced adopter, up to date with shots, not good with kids, good with dogs, and not good with cats.
Stryder - Ready for Adoption!'s Story...
Meet Stryder! He is a handsome 3 year old neutered Malamute / Husky who is now available for adoption! He is good with larger dogs, NOT good with cats or small animals and would be fine with teens or no children in the home. Stryder is a very special gentleman who has been diagnosed with Idiopathic Epilepsy. He is up-to-date on deworming, flea, and heartworm prevention, but is on a vaccination waiver (should not ever get vaccinated). We placed him at Westminster Pet Sanctuary to get his seizures under control. Here is their latest update (March 2013)!
"Stryder has worked very hard in learning manners and such, we are very proud of him! I still would recommend he not go to a home with cats or small dogs, but would be fine with other good natured dogs.
He is completely crate trained at night, and during the day if I need to pop out for a bit, I simply say "Stryder crate" and he walks in. He does bark when you leave, but after a few minutes he stops. He loves walking and running in our dog park and is now allowed off leash in there (he earned that!) with the other large dogs we have here. This is a HUGE step for him!
He eats very well, but care must be taken because after he gets his meds, he would, given the opportunity, over-eat. So we feel him smaller amounts 3 times a day which keeps him quite satisfied.
His epilepsy is WELL controlled with his two meds. He has had only three MINOR grand mal seizures since coming into our care. I think we have found a very good dosage of the meds for him, in addition making sure he gets the meds at 6AM and 6pm, and also ensuring he does not spit them out.
When he does have the odd seizure, we do give him 3 oral Valium right away, which does seem to prevent cluster seizures.(we think... but we give it as a precautionary only)
I would really have to suggest they would follow our schedule with meds, as well as avoiding treats, avoid using pine based cleaning products, and use only cotton (natural) based bedding (no cedar chip beds!) and a few other known triggers.
He is on a vaccination waiver, he is NOT to receive any more vaccines, unless they follow Dr Dodd's vaccine protocol for dogs with epilepsy and vaccinations. (vaccines are a HUGE trigger for dogs who have epilepsy) In addition he is not to receive "all in one combo" treatment for fleas/heartworm/worming (another BIG trigger, in fact we almost lost a dog a few years ago, after a treatment. Instead we use, Advantage (on its own) Panacur, and heartguard separately.
Overall he is a fantastic boy given he find the right home with no small animals, no small children (under 13) other larger dogs who are friendly would be great, and someone who is willing to ensure his medications are given on time and routine. In addition continue everyday rewarding him for his good behaviour. We always train here rewarding good behaviours, no matter how small, but never punishing bad behaviour. Stryder is very eager to please his people.
The time has come to find him his new forever home. He should not go to off leash public dog parks (not only because of his history, but he is a Malamute mix afterall :) His new family should be also be aware that he may have some wolf in him, only because once we learned that, our training was changed and we better understood why he would do some of the things he did, and were able to correct them properly. (such as he prefers to eat his food alone in a quiet place, he is NOT food aggressive at all, and you know I am very honest about behaviours, he just prefers to eat his meals alone in his crate as he takes his time eating without the other dogs eating like crazed animals bouncing around LOL)
As mentioned he does so enjoy our dog park here, which is 6ft high chain link also underground and secured at the top to prevent potential escape, although honestly, Stryder has expressed no interest in trying to escape. He greets "strangers" here in a very friendly manner.
He still does not like car rides, and should be crated during rides for his safety as well as drivers, as he tends to bounce around, and will not sit still. He does still whine in the vehicle in the crate, but after a while stops.
His routine so to speak is 6AM morning meds, then outside for morning pee etc. He comes in goes for a nap on his blanket beside me in the living room, 8AM feeding time, where he goes into his crate, followed by another outside potty break. at 11AM outside to play "free time" followed by inside "quiet time" 2pm, a little snack of food in his crate followed by another romp in the dog park. 5pm, another little snack, outside play time, 6pm evening meds. Then quiet time. 9pm final pee break outside, then "bed time" while he goes into his crate for the night quite content. He is exceptionally clean in the home. (he loves structure!)"
If you would like to inquire about Stryder or considering adoption, please don't hesitate to contact us at info@muskokaanimalrescue.com.
If you would like to donate to Stryder's continuing medical needs and care at Westminster Pet Sanctuary or in a future foster home, please email donate@MuskokaAnimalRescue.com.
Muskoka Animal Rescue Volunteer Group
"Helping the people and animals that live in the regions of Muskoka and Parry Sound"
Email us at info@MuskokaAnimalRescue.com
Call us at 705-224-0112 **No phone calls after 9:00 p.m. please**
Learn more at www.muskokaanimalrescue.com
Friend us at www.facebook.com/muskoka.rescue
Follow us at www.twitter.com/muskokarescue
Contact This Rescue Group...
Rescue Group:
Muskoka Animal Rescue Volunteer Group
Phone:

Please email this shelter!

(They don't list their phone number here)

E-mail:
Website:
Address:
Emsdale (Huntsville), ON
P0A 1J0
Help this Rescue Group by making a donation.
Rescue Group Info...
About Our Rescue Group...
We are a volunteer-based, donation-only service that provides non-judgemental, supportive help for people who are surrendering their companion animals. We also provide support to people who are looking for a new furry addition to their family. We: -provide free advice and suggestions to people who are experiencing issues with their pets, including but not limited to behavioural issues, training advice, surrender help, and much more -spay/neuter education, advice and referrals -put ads up on petfinder.com and kijiji and around the community -screen potential new homes over the telephone by asking many in-depth questions -do a home visit to make sure the people are "as good as they sound on the phone" -contact their vet and do a vet check to make sure they get a good reference -provide transportation from the old home to the new home -get the old owners to sign a Surrender Form -get the new owners to sign an Adoption Agreement Form This is done on a donation-basis only and circumstances may vary based on the situation. We believe in the power of community, respect and inclusion. Our volunteers have over 10 years experience in the animal rescue field, have rescued hundreds of animals, have worked in the field and have College Diplomas in Animal Care Work. We are committed to helping people find homes for their pets because we care about our community and love animals. If you are someone who is surrendering their animal we know how hard it can be and we know you would want your pet to go to the right home, not a home where your pet will be subjected to neglect, cruelty and abuse.
Come Meet Our Pets...
As we are a rescue group, we don't have a shelter, just loving foster homes throughout Muskoka. Please contact us to make an appointment to see an animal.
Our Adoption Process...
Our process for adoptions are as follows: Step 1: telephone or in-person screening Step 2: Home visit Step 3: Vet check Step 4: Adoption!
We Serve the Following Cities, Towns, and/or Counties...
All of Muskoka Region including: Huntsville, Bracebridge, Parry Sound, Port Carling, Bala, Gravenhurst.