Hello! My name is River Cooter
Help me get seen and adopted!

Pin It
---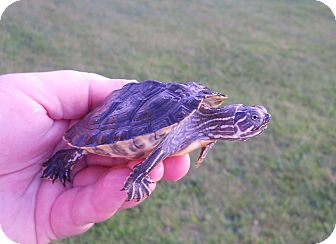 River Cooter's Info...
Species:
Turtle - Water
Age:
Young
Size:
Large
Sex:
Unknown
River Cooter's Story...
We don't like fish as much as the sliders do, but we do love our veggies!
My two siblings and I are for adoption and we're juvenile River Cooters (Pseudemys concinna). We can be adopted together or seperately. In fact, the other two are stressing me out some, so unless we have a HUGE enclosure together, I should probably be adopted by myself. Keep in mind that, while we are small now, cooters can get HUGE, up to 14" when full grown!
We are about three years old, but small for our age at 2.5" - 3". We've picked up size recentlly though, and are hitting a growth spurt. We can be adopted together or individually. We had a rough start in life at a wholesale facility, and as a result our shells look a little rough, and we didn't grow as well as we should have the first couple of years, but now we're improving and want our own home! Otherwise, we're healthy and active. We've been eating Mazuri aquatic turtle pellets and greens such as Romain, plaintain weeds, and clover, as well as thin slices of carrot or sweet potato. In the wild, we would be eating lots of aquatic vegitation. We LOVE water hyacinth and floating salvinia, so a fenced-in backyard pond would be really good for us in the summer - we can live in a pond year-round once we go outside next summer, but we have to spend this winters indoors because were weren't adopted in time to acclimate to the outside.
Our foster home can't tell if we're male or female, and won't be able to tell until we're about 5" or so. HOWEVER, my two bigger siblings are "fluttering" at each other, and that sometimes means they're boys (boys like to "flutter" at the girls to get their attentiong or to show off how studly they are). Each of us would do well in a 20 "long" tank for now, or in a 55 gallon tank all together, but we will quickly outgrow that. When full grown, each of us will need a 75 gallon tank or even larger - feamles need a 125 gallon tank when full grown, or a backyard, fenced-in pond.
We're very similar to sliders, except we like our greens a lot more, and the pond fish a lot less. So, we probably won't even try to eat any koi or goldfish.
A good book to learn more about cooters, even if it has a funny name, is Red-Eared Sliders (Animal Planet Pet Care Series), available in Petco stores or Amazon.com Make sure it's one of the Animal Planet books.
Review the aquatic turtle care sheet to learn more about caring for a cooter or slider. http://www.matts-turtles.org/docs/AquaticTurtleCare.pdf
Maryland residents would need to acquire a DNR Captive and Reptile Amphibian Permit if they adopt a turtle under 4". Since these are non-native turtles, once they're 4", you don't have to renew the permit. The permit is $25 a year and must be renewed in December so long as the turtle is under 4" in top shell length.
Cooters and redbellies can live for 20 years or more, and can grow to be 8-12" for males, and 8-14" for females. They need large indoor aquariums or ponds, a basking spot, and water filtration. Indoor ponds and aquariums require a haul-out spot, a.k.a. basking spot, a heat light over a basking spot, a UVB light over the basking spot, a high-powered filter, and usually a water heater. Outdoor ponds must be in an escape-proof yard or the pond itself must be escape-proof. If you have a backyard pond, the turtle can't go outside for the first time until May, but can live year-round outside after that.
If using an aquarium, a good rule of thumb is roughly 10 gallons per inch of turtle (straight carapace length). So, a 6" turtle will need at least a 55 gallon aquarium.
You must complete an application and if approved, supply pictures of set-ups before taking a turtle.
Request an adoption application from matts_adoptions@hotmail.com. Please include your CITY and STATE when contacting MATTS.
PLEASE HELP OTHER TURTLES by spreading the word - baby turtles grow into big turtles! They do not stay small - they do not grow to the size of their enclosure! Please don't buy hatchling turtles at vacation tourist spots.
Contact This Rescue Group...
Rescue Group:
Mid-Atlantic Turtle & Tortoise Society
Phone:

Please email this shelter!

(They don't list their phone number here)

E-mail:
Website:
Address:
P.O. Box 22321
Baltimore, MD
21203
Rescue Group Info...
About Our Rescue Group...
We are an all-volunteer, 501(c)(3) non-profit organization founded in February, 1997, directed by concerned hobbyists and professionals, who saw a need to reach out to the public and improve the conditions under which captive chelonians are kept and try to protect local species and their habitats. We are a conservation group that also does adoptions as a public service.
We offer an adoptions program to help displaced or unwanted pet turtles and tortoise find new, loving homes. We are licensed by the Maryland Department of Natural Resources to find new homes for unwanted and/or unreleasable pet native turtles. The adoptions program is funded strictly by donations. We do not receive any grants or reimbursement from DNR or the government.
Please note, we do not have a central shelter. All turtles are in foster homes. Each year we find homes for over 100 displaced or unwanted pet turtles, tortoises, frogs, and small lizards.
Donate to Our Rescue Group...
P.O. Box 22321 Baltimore, MD 21203
Come Meet Our Pets...
We meet three times a year (March, May, October) at the Benjamin Banneker Museum in Catonsville, MD. Visit www.matts-turtles.org for dates and directions.
We have a table at the World of Pets Expo in Timonium, MD, every Jaunary, and at the Mid-Atlantic Reptile Show every September. During the year we may have tables at Petco stores, the University of Maryland, and various festivals in Maryland. We do not have a shelter, so all fostering is done in our homes, which is why we meet adopters in central locations such as downtown Baltimore for most Maryland adopters, at the Park & Ride in Catonsville or Columbia for VA adopters, or in Abingdon, MD for Philly/NJ adopters, or near York, PA, for central Pennsylvania adoptions.
Our Adoption Process...
TO REQUEST AN ADOPTION APPLICATION: Applications can be mailed to you, either as an e-mail attachment, or through the US Postal Service.
E-mail matts_adoptions@hotmail.com to request an application. Complete the application in full. A vet reference is required, even if your vet does not see turtles. If you do not have a vet, please explain the reason.
We need to know that you understand how to care long-term for a turtle or tortoise. This includes the correct size and type of housing, proper food, hiding spots, substrate, lighting, humidity, and water requirements. If you currently own turtles or reptiles, please include a picture of your set-up(s) including lighting, basking spots, hiding spots, and any pertinent information that proves you have proper enclosures. Pictures of outdoor enclosures should indicate that the enclosure is escape-proof and watering areas, hiding spots, and the like should be visible.
If you're looking to add a turtle or tortoise in with another turtle, please include that in the application.
If you do not currently own a reptile, include a full description of how you intend to care for the animal in which you are interested. This includes the size of enclosure, types of food you will offer, substrate (for non-aquatics), what will be used for hide spots, types of lighting for indoor enclosures, fencing for outdoor enclosures, etc. Pictures of outdoor areas that will serve as the site of future enclosures will be helpful.
Once you've been approved, we'll let you know, so you can prepare an enclosure for the turtle, then send a picture of the completed enclosure before picking up the turtle or arranging for shipment.
An adoption contract comes with each turtle. Basically, you agree to care for a turtle or tortoise in a humane manner and maintain it in accordance with the laws and ordinances in the county and state in which you reside. You further agree that you will not sell, trade, release, or give away said animal in any way without the written permission of MATTS. If you cannot care for the animal for any reason, it may be returned to MATTS. MATTS reserves the right to approve the transfer of adopted turtles to another individual or organization - you don't have to return it to us if you can't keep it, but we'd like to know where it goes if you don't keep it.
We Serve the Following Cities, Towns, and/or Counties...
MD, DE, southern PA, northern VA, DC