Ruff Ruff! My name is Sonny and Shadow - Free
I found a new home!
Plenty of my friends are looking for one too. Find a pet to adopt.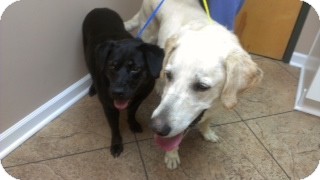 Other Pets at Shelter...
Sonny and Shadow - Free's Info...
Breed:
Labrador Retriever Mix
Color:
Tan/Yellow/Fawn - With Black
Age:
Adult
Size:
Large 61-100 lbs (28-45 kg)
Sex:
Male
Sonny and Shadow - Free's Story...
Sonny and Shadow were owned by a young man who died. His mother did not want them and said she would have them put down this the next morning if someone did not take them.
Sonny is your typical yellow lab. He is very sweet, 9 years but still very playful for his age, and wants to be in your lap. He is a robust 102 pounds, healthy with the exception of stiff rear quarters from an old unrepaired cruciate injury.
While Sonny approaches people for love, Shadow, the female black male lab mix is a bit more unsure. He hides behind Sonny mostly in new situations. But as soon as Sonny says, the coast is clear, all is well! Shadow is 11 years old and has heartworms. She is currently being treated with slow kill method and is doing fine. She still has a benign mass on her forearm that is too large to remove.
Sonny and Shadow must stay together. Their adoption and transport fees are sponsored by our sister rescue Adopt A Golden Atlanta. They are sweet gentle dogs that just need a second chance, together.
If you are interested, please go to our website at www.adoptagoldenknoxville.org and fill out an application. Please read our Knoxville to New England page for more information on blind adoptions. Remember, their transport and adoption fee is waived. Also, please note that you are interested in Sonny and Shadow on your application.
NOTE: Adopt A Golden Knoxville rescue doesn't have an actual shelter building in your area. These dogs are fostered in private homes in East Tennessee. Therefore, it is not possible to meet the dogs and pups prior to their adoption. They are brought up north on a USDA transporter.
Rescue Group Info...
About Our Rescue Group...
WHO WE ARE---Adopt a Golden Knoxville, Inc. is a group of volunteers who devote our energy and resources to find safe, loving, permanent homes for the dogs that come into our care. We get dogs from owners who, for whatever reasons, are no longer able to care for them and trust us to find their dogs new and loving homes. We get dogs from shelters who contact us to rescue dogs they might otherwise have to euthanize. Very often, these dogs have serious medical problems which we discover after they are examined by the veterinarian and the veterinarian's office is the first place any dog that comes into our care goes. Our adoption fees help to cover the medical expenses that are required for each dog. Often those costs are high--far higher than is covered by our adoption fees. Because of the sometimes dire circumstances these dogs may come from, they have often not had regular and routine veterinary care. We make sure they get it--whether they come in with heartworm, serious dental issues, or tumors. And we make sure they are spayed or neutered.
We do not receive government funding as public shelters do, so we must rely on private donations and seek assistance from organizations such as the Golden Retriever Foundation and the Goldstock Fund in order to help as many dogs as possible. We are very grateful to our donors and to these foundations for their support.
We are also particularly grateful to those people willing to open their hearts and their homes to foster these dogs until we are able to complete the process of locating loving individuals or families looking for a new (even if the dog they want is a senior) best friend.
If you decide to adopt from us, please understand that the application process is designed to assure that this dog never has to again endure whatever circumstance, and some of them are very sad indeed, that brought the dog to us and to assure that the adopters get the dog that will meet the need that brought them to us. In addition to providing those services, Adopt a Golden Knoxville is intent on educating and assisting the metropolitan Knoxville and East Tennessee general public, and dog owners specifically, regarding issues such as responsible pet ownership, spay/neutering, obedience training, and veterinary/specialists referrals. Our goal is to reduce the number of Golden Retrievers sent to shelters.
Adopt a Golden Knoxville is a year old as of October 2011. If you check out our Golden Tales page, you will see some smiling faces that make our work and your donations and support worthwhile.
THANK YOU from them and from us!!
Our Adoption Process...
AGK loves our northern neighbors and enjoys working with them to find their next golden! To help ensure a successful blind adoption, applicants are interviewed, references are checked, and a home visit is conducted in which all members of the family are required to be present. New England adoptions do take extra time, so patience is a must.
IF YOU ARE AT ALL HESITANT TO COMPLETE A BLIND ADOPTION, OR IF YOU ARE LOOKING TO ADOPT QUICKLY, WE RECOMMEND YOU APPLY TO A LOCAL AND/OR REGIONAL RESCUE GROUP OR VISIT YOUR LOCAL ANIMAL SHELTER.
Adoption Fees as of February 1, 2012:
Pure Bred Puppies (6 weeks to 5 months) = $425
Mixed Puppies (6 weeks to 5 months) = $350
Puppies (6 months to 11 months) = $300
1-4 year olds = $300
5-9 year olds = $250
10+ = Donations
TRANSPORT FEES OF $180-$190 ARE IN ADDITION TO THE ADOPTION FEE AND ARE PAID BY THE ADOPTER.
The Approval Process
1. An Application Coordinator will be assigned to you once we receive your application and application fee. They will be your main contact through the application and adoption process.
2. Veterinary reference checks performed.
3. Phone interview(s) conducted.
4. Home visit performed by an area rescue group.
Dog Placement Process
1. Once your application is approved, the Dog Placement Team will begin working to find the best match for you , and most importantly, the dog. Please understand that the dog you're are interested in may be a.) adopted before you are approved, or b.) not the right fit.
2. When a potential match is found, the dog's foster will contact you to conduct another interview. The you will also have the opportunity to ask specific questions about the dog.
3. If the foster, Dog Placement Team, and you think it's a good match, the adoption process begins.

Adoption Process
1. AGK will make a reservation for transport using either Pooches on the Move or P.E.T.S. LLC for the first available weekend.
2. The Application Coordinator will email the Adoption Contract to you to complete and return to AGK. Adoption and transport fees must be paid before the dog is transported. The transport fee is an additional $180-$190 dollars and includes the transport, health certificate exam, and the health certificate. The fees may either be paid on-line or by check.
3. The week of the transport the dog will receive an exam and health certificate required for transport.
4. Transports pick up in Knoxville on most Friday afternoons and arrive in New England the following day at various times. AGK will contact the applicant when the dog is safely on board transport.
5. Adopters must arrive at the pick-up location with a leash, ID tag with their contact information, and a photo ID.
We are here to guide you every step of the way. Your assigned Application Coordinator will answer your questions and explain the process in detail during the phone interview and throughout our time working with you. We look forward to receiving your application and working with you to find your next golden!
We Serve the Following Cities, Towns, and/or Counties...
Portland, ME
Hampton, NH
Windham, NH
Salem, NH
Plainfield, CT
Norwich, CT
Glastonbury, CT
Danbury, CT
Nanuet, NY
Bedminster, NJ
Allentown, PA
Hagerstown, MD
Any New England area, if you are willing to drive to one of our pick-up locations.