Ruff Ruff! My name is SASSIE & AURORA
I found a new home!
Plenty of my friends are looking for one too. Find a pet to adopt.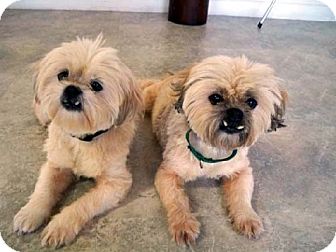 Other Pets at Shelter...
SASSIE & AURORA's Info...
Breed:
Shih Tzu/Lhasa Apso Mix
Color:
Tricolor (Tan/Brown & Black & White)
Age:
Senior
Size:
Small 25 lbs (11 kg) or less
Sex:
Female
SASSIE & AURORA's Story...
PLEASE READ THIS PROFILE AND THE REQUESTED CRITERIA BEFORE CALLING OR SUBMITTING AN APPLICATION. THANKS FOR YOUR ATTENTION AND CONSIDERATION
THIS IS SASSIE and AURORA....and they are truly two peas in a pod. Their story is heartwarming and sad....and without question, will have a happily ever after somehow. Sassie, a gold/white, 14 lb, Shih Tzu/Lhasa is 9.5 yrs old and Aurora, 15 lbs, more tri colored with a black mask, just turned 12....and the two are very bonded. These "ladies" were adopted to one of our wonderful guardians who had adopted multiple dogs from us in the past. Sassie and Aurora joined her family in 2007. and they were BFF all the way. Our adopter fell on hard times, lost her home and lived in her car for a whole year before we found out....she lived in her car with Sassie and Aurora by her side. When we learned that she was living in her car, we couldn't bear it and another adopter of ours, with a huge heart, had moved to AZ and his house was empty....PERFECT MATCH....until the fateful day when Sassie and Aurora's mom had a massive stroke. She lost the use of her right side and her ability to speak clearly. So Sassie and Aurora had to come back to Lhasa Happy Homes.....
We found a wonderful foster for the girls, who has potty trained them thru a doggie door, helped their flea dermititis, and they are now in beautiful shape. This lovely woman would keep Sassie and Aurora forever, but her husband has said no....so we only have until January to find them a new home.
Sassie and Aurora are adorable, loving girls who just want to sit at your feet, cuddle in your arms, give you lots of love. They enjoy playing with their toys and Sassie likes to play with her toys and entertain herself. They are happy, they have been shuffled around so much, they just need to be settled in their forever home. Aurora is the alpha of the two....but they certainly don't act like senior dogs at all! They do need to be on a hypo allergenic food because they get allergies...but their foster mom has been great in getting them in the best shape of their lives!!
Do you have a place in your heart for these two lovebugs? They need a special family to love them to life. Could that be you??
Our website is updated daily. Please do not apply for this dog unless your home fits the specified criteria. All of our dogs are spayed/neutered, microchipped, groomed, vet checked, dewormed, deflea'd and come with a leash, collar and ID tag!
If you are interested in adopting a pup from Lhasa Happy Homes, please complete the Adoption Application before calling. We want to give you the time you deserve, so please help us help you!! We will contact you once it has been reviewed.

Most every Sunday, unless we are doing a special event, we are at My Pet Naturally (12001 W. Pico Blvd., West LA 90064) from 11-3:30pm. You can see this, and many more, adorable pups at this weekly event! Please do call us if you are coming to see a particular dog to make sure he/she will be at adoptions (we do not bring sick dogs to our adoption events). Please bring a copy of your application and pictures of your home and yard if we have not done a home check! Most importantly, if you have a dog, make sure you bring him or her to do a compatibility match with the dog you are interested in adopting!!! And don't forget to check out our Events Calendar for more information on events we may be doing! See our home page for more details about our adoptions at Lhasa Happy Homes.

Thanks for thinking rescue and adoption....and for considering saving a life. It will be the best gift you ever give yourself or your family.SASSIE & AURORASASSIE & AURORA
Rescue Group Info...
About Our Rescue Group...
Lhasa Happy Homes is a private rescue and foster care organization, created for the safe haven and permanent placement of homeless pups, primarily Lhasa Apsos, Shih Tzus, Maltese, Pomeranians and other small mixed breeds. Each of the dogs who come to Lhasa Happy Homes is cared for in a home-like environment, with an abundance of love, attention and special care. These dogs have been through a lot...and it is our objective to make them feel secure, safe and protected... so that when they are placed in their forever homes, they will stay there!
We are NOT a shelter. We rescue from the Los Angeles city and county shelters, and Orange County shelter. We accept Lhasa Apso, Shih Tzu, Maltese and Pomeranian owner turn-ins who are need of re-homing for whatever reason (to save them from even a temporary stay at a shelter).
We advocate the spaying and neutering of all animals -- no pup will be adopted from this organization before he/she has been altered. We also treat these pups as if they were our own, providing them with care, attention, a loving environment and rehabilitation, when necessary, to prepare them for their forever homes.
We are a non-profit, 501c3 organization. The adoption fee for each pup goes towards subsidizing the expenses involved in preparing the pups for adoption. This includes altering, grooming, de-worming, flea treatment, medical attention, prescriptions, vaccinations and home delivery. Transport, where/when applicable, is not included.
Our utmost goal is to adopt to humans who will provide the perfect "forever" home for these little furbabies -- wonderful animals who deserve a second chance at a great life.
Come Meet Our Pets...
OUR WEEKLY ADOPTION EVENT TAKES PLACE AT
WESTFIELD CENTURY CITY MALL
Sunday -- 12pm-4pm
Bring pictures of your home and yard
if we haven't done a home check!!
DIRECTIONS: (from OC)
405 North to Santa Monica Blvd Exit
Turn right and go straight to
10250 Santa Monica Blvd. (Shopping Center)
Park in the Orange Section, come up
the escalator and follow the signs. We
are between Brooks Bros and Lens Crafters
DIRECTIONS: (from San Fernando Valley)
101 to 405 South
Take Santa Monica Blvd.exit
Turn left and go straight to
10250 Santa Monica Blvd. (Shopping Center)
Park in the Orange Section, come up
the escalator and follow the signs. We
are between Brooks Bros and Lens Crafters

DIRECTIONS: (from 10 freeway)
10 West to 405 North
Take Santa Monica Blvd Exit
Right on Santa Monica to 10250 Santa Monica
Park in the Orange Section, come up
the escalator and follow the signs. We
are between Brooks Bros and Lens Crafters
SEE YOU THERE!!

Please check our website at www.lhasahappyhomes.org for more special event dates
If you are attending our adoption (Sunday only) and we have not done a home visit please bring pictures of your home and yard for us to see
Thanks for your cooperation.
Our Adoption Process...
How do I start the adoption process to adopt from Lhasa Happy Homes Rescue?
1. COMPLETE THE APPLICATION ON OUR WEBSITE AT WWW.LHASAHAPPYHOMES.ORG
If you are interested in any of the pups at Lhasa Happy Homes, the first step is to complete the application. Until we know a little about you and what you are looking for, it is impossible for us to tell if a dog is right for you and your family.
2. APPLICATION WILL BE REVIEWED
Once your application has been reviewed and hopefully approved, we will contact you (either by phone or by email) to discuss this adoption further and to set up a time to meet the animal of your choice. You might find us a bit "invasive" with the questions you are asked…that's why they often call us the "Benevolent Lhasa Nazis." Our only objective is to make the perfect match, and we truly go that extra mile in search of exceptional homes for our little furry friends. Each has their own unique personality and characteristics. Their lives have been interrupted for one reason or another, and it's our job to make certain wherever they go next is the last time they will have to move! We endeavor to match the pup with what you are looking for so that they are yours forever more! We do not adopt to families with children under 5 yrs old; generally not under 8 yrs old and we rarely adopt out of state.
3. HOME CHECK WILL BE ARRANGED
The goal here is to make sure the home is secure and that the dog is not likely to get out and lost again! This will either be arranged prior to or after you have met the dog you are interested in. We may, at our discretion, accept photos of your home in lieu of a home visit.
4. REVIEW AND SIGN AGREEMENT
Pay a donation (adoption donation starts at $200). The donation includes spay/neuter, vaccinations, grooming, vet check, deworming, defleaing, leash/collar/ID tag and microchip. Then take home your new child!
We would be honored to help you find
your new family member.
We Serve the Following Cities, Towns, and/or Counties...
We prefer placing locally in LA and Orange Counties, however, we will consider adoptions in Northern California and San Diego. We do not adopt out of state.
We hold our adoptions every Sunday at My Pet Naturally (Pico and Bundy in West LA)
See our website for more information www.lhasahappyhomes.org