Ruff Ruff! My name is Cricket
I found a new home!
Plenty of my friends are looking for one too. Find a pet to adopt.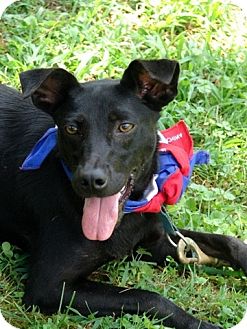 Other Pets at Shelter...
Cricket's Info...
| | | | | | |
| --- | --- | --- | --- | --- | --- |
| Breed: | Labrador Retriever Mix | Color: | Black | Age: | Young |
| Size: | Med. 26-60 lbs (12-27 kg) | Sex: | Female | ID#: | Cricket |
Cricket's Story...
Cricket--"THE PERFECT FAMILY CONPANION--GENTLE--PLAYFUL-- BEAUTIFUL" Cricket IS AN ADORABLE 2YEAR OLD, 40 POUND LAB MIX PUP. AFTER MEETING CRICKET WE DECIDED THAT THE MIX IN THIS PUP IS GREAT!!!! IF YOU PUT TOGETHER A "WISH LIST" OF EVERY TRAIT YOU COULD EVER ASK FOR IN A TRUE COMPANION CHANCES ARE IT WOULD BE CRICKET! THE FIRST THING YOU WILL NOTICE WHEN YOU SEE Her IS WHAT A TRULY BEAUTIFUL GIRL SHE IS. HER COAT IS FLAWLESS, "HIGH GLOSS" BLACK MARKINGS FRAMING HER FACE. HER EYES ARE SOME OF THE MOST BEAUTIFUL WE HAVE SEEN. THEY ARE A DEEP, COLOR AND TRULY SEEM TO SPARKLE LIKE A MILLION STARS WHEN CRICKET FIRST SEES YOU. HER COAT IS SO SOFT IT FEELS LIKE VELVET AND YOU WILL WANT TO PAT AND RUB THIS LITTLE GIRL ALL DAY WHICH AS MUCH AS CRICKET LOVES ATTENTION AND AFFECTION IS JUST FINE WITH HER!!! CRICKET IS ALSO A BEAUTIFULLY BUILT PUP WITH PERFECTLY BALANCED BODY CONFIRMATION. BEING FULL GROWN AND ONLY WEIGHING 40 POUNDS SHE IS A DELIGHTFUL SIZE TO FIT IN ANY LIVING ARRANGEMENT NOT ONLY A BEAUTIFUL PUP BUT THERE IS MUCH MORE TO CRICKET THEN JUST A PRETTY FACE. HE IS THE KIND OF PUP THAT GIVES MEANING TO THE WORD "COMPANION. SHE IS AN AFFECTIONATE, DEVOTED, HAPPY GIRL! SHE HAS A GLOWING TEMPERAMENT AND DISPOSITION, JUST A TRUE PLEASURE TO BE AROUND. SHE ABSOLUTELY ADORES EVERYONE SHE MEETS AND ALL DOGS SMALL, MEDIUM OR LARGE IT DOESN'T MATTER TO CRICKETJUST AS LONG AS THEY WILL PLAY(HE'S EVEN FINE WITH CATS). JUST TAKE BLAKE OUT IN HIS BIG FENCED YARD WITH A FEW BALLS AND SOME PLAY BUDDIES--CRICKETS PERFECT DAY. SHE IS HOWEVER A DOG WHO IS GENTLE IN PLAY, NEVER JUMPY OR HYPER JUST FUN!!! SHE IS SUCH AN EASY FIT THAT HER FIRST DAY WITH YOU YOU WOULD FEEL SHE HAD ALWAYS BEEN A PART OF YOUR LIFE!! CRICKET IS A PUP THAT YOU COULD TAKE ANYWHERE IN ANY SITUATION AND SHE WOULD SHINE. WHATEVER YOUR DAY CALLS FOR IS JUST FINE WITH HER JUST TAKE HER ALONG. IF YOUR DAY STARTED WITH AN EARLY MORNING WALK OR JOG SHE WOULD BEAT YOU TO THE DOOR, TAIL WAGGING, EYES TWINKLING JUST READY FOR HER NEXT ADVENTURE. SHE IS AN EXCELLENT WALKING OR JOGGING BUDDY AS sHE IS TERRIFIC ON LEAD, IN EXCELLENT SHAPE AND WILL MATCH YOU STEP FOR STEP. IF YOU HAD ERRENDS TO RUN AROUND TOWN, JUST OPEN THE CAR DOOR AND Cricket WILL HOP RIGHT IN, TURN HER ADORABLE HEAD AND GIVE YOU HER "I'M READY LET'S GO" LOOK. CRICKET DOESN'T KNOW WHERE SHE'S GOING AND IT DOESN'T MATTER TO HER SHE'S WITH THE MOST IMPORTANT PERSON IN THE WORLD TO HER "YOU" AND THAT'S ALL THAT MATTERS. THERE IS ANOTHER PART TO THIS PUPS PACKAGE AND BEING A LABBY, A HIGHLY INTELLIGENT BREED, CRICKET HAS INTELLIGENT COVERED. SHE IS A VERY ALERT LITTLE GIRL ALWAYS AWARE OF HER SURROUNDINGS, NEVER MISSING A THING. SHE IS A PUP THAT IS EAGER TO LEARN. LEARNS INCREDIBLY FAST BUT MOST OF ALL IS ABSOLUTELY THRILLED WHEN SHE KNOWS SHE HAS PLEASED YOU. THESE TRAITS MAKE TRAINING A BREEZE. SHE IS A PUP THAT WOULD FLY THROUGH OBEDIENCE TRAINING THUS COMPLETING THE PACKAGE FOR THE PUP OF A LIFETIME. AT DAY'S END WHEN YOU AND cricket HAVE SPENT THE DAY PLAYING, TAKING WALKS AND RUNNING ERRANDS WHEN CRICKET COMES INTO HER HOME SHE CONTINUES TO SHINE, HOUSE TRAINED AND CRATE TRAINED WITH BEAUTIFUL MANNERS. WHEN YOU BUILD A FIRE AND STRETCH OUT ON THE SOFA TO WATCH A MOVIE OR READ A BOOK CRICKET WILL FIND HER SPOT, CURL UP AND NAP, HAPPY AND CONTENT BEING WITH YOU HER TRUE HAPPINESS. WHEN IT'S TIME FOR BED SHE WILL CUDDLE UP IN HER CRATE AND SLEEP THROUGH THE NIGHT QUIET AS A MOUSE BUT CRICKETS TRUE SLEEPING ARRANGEMENT OF CHOICE IS ON A BED AS CLOSE TO YOUR BED AS SHE CAN GET BUT WE ALSO KNOW IF YOU WANTED A CUDDLE SOFT SLEEPING BUDDY CRICKET WOULD OBLIGE. BEING ON THE SMALLER SIDE FOR A PUP SHE WON'T TAKE UP TO MUCH ROOM. AFTER SPENING TIME WITH CRICKET SHE IS A TRUE COMPANION GIRL THAT WOULD FIT INTO JUST ABOUT AND FAMILY SETTING. SHE WOULD BE A GREAT MATCH FOR A SINGLE GUY OR GIRL, A COUPLE OR A FAMILY WITH OLDER CHILDREN WHO WOULD WANT TO SPEND THE DAY PLAING WITH THEIR NEW BEST FIREND SHE ONLY HAS ONE WISH AND THOSE GROGEOUS EYES TOLD US THIS THE FIRST TIME WE MET HER. SHE JUST WANTS HER OWN FAMILY. SHE WANTS TO BE INCLUDED IN THE LIFE OF SOMEONE THAT WILL SEE WHAT A TREASURE SHE IS AND LOVE HER! IF THE "COMPANION" YOU ARE HOPING TO ADD TO YOUR LIFE IS ONE THAT IS HAPPY--LOVING--AFFECTIONATE--HAS A GLOWING PERSONALITY AND TEMPERAMENT AND ALSO JUST HAPPENS TO LOOK LIKE A PAINTING THEN LOOK NO FURTHER CRICKET IS YOUR PUP. YOU WILL BE REWARDED EVERY DAY SHE IS A PART OF YOUR LIFE WITH TAIL WAGS, KISSES AND A PUP WHO ONCE SHE GIVES HER LOYALTY AND LOVE IT IS GIVEN FOREVER!!!! SHE IS ONE EXCEPTIONAL COMPANION!!!! IF YOU WOULD LIKE TO LEARN MORE ABOUT MAKING CRICKET A PART OF YOUR LIFE PLEASE CONTACT HEATHER AT 2CARE4RESCUES@GMAIL.COM
Rescue Group Info...
About Our Rescue Group...
We are a small rescue who fulfilled our dream of opening a family-owned low-cost spay neuter clinic in Tri Cities, TN. Our clinic mission is to provide high-quality, low-cost spay neuter and routine pet health care to all individuals in our region, but wish to reach out to those who cannot afford "full cost" veterinarian care based on their limited income; or if they have multiple animals and simply cannot afford essential vet care for all of their beloved pets. We want to make veterinarian care affordable to everyone in our region. The clinic facilitates our rescue and allows us to save more dogs and cats from our local shelters.
Come Meet Our Pets...
Our pets are available for adoption and are located in foster homes in the Tri Cities, TN. If you wish to schedule an appointment to meet one of our adoptable pets, please contact us on facebook so that we can arrange for the animal to be brought to the clinic. We do require completion of an adoption application before scheduling this meet and greet appointment. If you wish to learn more about the clinic, we welcome you to visit us on facebook at www.facebook.com/pawsofhopeanimalwellnesscenter
Our Adoption Process...
Our fees are variable for each pet based upon individual vet costs. All fees include vetting (rabies vaccine, heartworm testing and spay/neuter and health certificate for interstate travel) and transport fees. We require an adoption contract as the first step in the adoption process. After completion of the contract, we will review the information and contact the applicant via email within 48 hours if we wish to pursue with a telephone interview. We also require one veterinarian reference and 2 personal references. Adoption fees are required to be paid in full prior to arrival of the adopted pet, as a portion of the fee will be applied to the transport service.
We Serve the Following Cities, Towns, and/or Counties...
We serve the tri cities Tennessee /Virginia and have weekly transport available to the New England area upon completion of the adoption process.