Ruff Ruff! My name is Milly - Only $65 adoption fee!
I found a new home!
Plenty of my friends are looking for one too. Find a pet to adopt.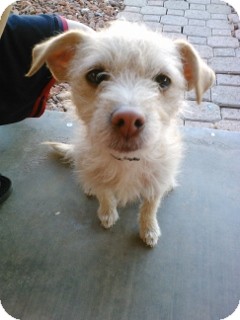 Other Pets at Shelter...
Milly - Only $65 adoption fee!'s Info...
| | | | | | |
| --- | --- | --- | --- | --- | --- |
| Breed: | Sealyham Terrier/Lakeland Terrier Mix | Color: | White - With Tan, Yellow Or Fawn | Age: | Young |
| Size: | Small 25 lbs (11 kg) or less | Sex: | Female | ID#: | A422806 |
Milly - Only $65 adoption fee!'s Story...
This amazing little dog was saved off the euthanasia list at one of the kill shelters. Milly is a very energetic pup that loves to play and go anywhere with you. At first she's very shy but she warms up quickly. Once she sees your attention is on her, she tries tries to be goofy by jumping all over the place and rolling over, it's so cute, lol! She gets excited when I speak to her as if she was a little baby. She's absolutely adorable! She's smart & picking up on the training well! Some of the words she's learned so far are "come", "go", "go potty", "good girl", "inside" (to go inside crate), and "no". Milly loves to run around & play. She looks adorable with her ears flopping up and down as she runs, TO CUTE! She would do great in a home that would take her on daily walks, as well as going to dog parks to play & socialize. She's a very quiet dog, & a complete cuddle bug! All this little cutie wants is to be loved.
Age/Birthday: 1 year
Weight at last Vet visit: 10 pounds

This dog/puppy is currently learning:
- To go potty in a certain corner of the yard
- Not to dash out the door
- Sit
- Lay Down
- Wait
- Ok (This is a command release)
- Come
- This way (when you are walking & change direction)
- Out (go out of the room)
- Quite
- No
- Treat
- Outside? (if you say this & get a reaction, they need to go outside to go potty)
- Go potty
- To bark when s/he wants to come inside
- Good girl/boy
- Bad girl/boy
- Stand up
- Water
- Inside (to go in the crate)
- Stay

Tested with:

Cats: Milly is great with cats! Once she knows them, all she wants to do is play with them, TO CUTE!

Dogs: She is friendly to other dogs but takes her a bit of time to get to know the dog first. She loves to play around with them once she knows them. Milly has been around small and medium size breeds.
Kids: She is great around kids. Milly likes all the attention the young ones will give her, lol! Has been around kids ages 7, 8, and 10.

Men: She likes men, and if they give her a treat she will be all over them, lol!

Women: Milly has been around women the most and is great with them. Very friendly :-)

Crate Trained: Yes, Milly goes right in the crate when asked. She is smart & learned very fast what "inside" means. Whenever she needs to go potty she cries or hits the crate with her tail.
House Trained: Yes, she is housed trained. Milly signals when she needs to be taken out by crying or licking your hand. Sometimes she will just stare at you nonstop and make low sounds.
Leash Trained: She is not used to going on walks & is afraid of it. She walks at the same pace you do. We are currently working with her & showing her how fun walks can be. :-)
Car: She loves car rides, and will either sit there quietly or look out the window.
Other issues: She is scared to be left alone and cries. Foster Mom has seen a large improvement in it though from the time she first got her until now. Some dogs do that when in a new place & they don't know what is going on & they are scared. She should stop when she gets more comfortable w/you. Milly now only fusses for a few minutes when you leave.

Adoption fee is only $65 & includes:
- Spay/Neuter surgery
- Up to date on Vaccinations
- Harness *
- Other surprise goodies from Safe Haven
- Free office visit to Vet or 50% off any Optimum Wellness Plan
- Other coupons from Partners
- Available Paperwork: Spay/Neuter records, Vaccs records, Vet records, Micro records, Recommendation list, etc...
- Continued Support: Safe Haven will be there for the lifetime of your new adopted pet. If you ever have questions or concerns, we will always be there to help. Our goal is for you & your pet to live happily ever after!

If you are interested in adopting this pet, you must be willing to come to Phoenix, AZ to meet them.
Please e-mail for an application
After we receive your application, we will contact you so you can meet him/her.

ADOPTING A CAT OR DOG IS UP TO A 20 YEAR COMMITMENT! THEY ARE NOT OBJECTS THAT YOU CAN GET RID OF WHEN THEY BECOME INCONVENIENT. THEY ARE INNOCENT LIVING, BREATHING ANIMALS WITH FEELINGS THAT DEPEND ON YOU TO TAKE CARE OF THEM. IF YOU ARE NOT WILLING TO TAKE CARE OF, LOVE, & PAY FOR EVERYTHING THIS PET NEEDS FOR UP TO 20 YEARS, THEN PLEASE DO NOT ASK FOR AN APPLICATION.

* Safe Haven STRONGLY believes that collars should only be used as decoration. A dog can slip out of collar. Which becomes a problem if your dog gets lost, or you are trying to restrain your dog, & it comes off. Also, attaching a leash to a collar puts pressure on the neck, which is one of the most sensitive areas of the body, & could hurt them. For these reasons, Safe Haven includes a harness with every dog adoption to ensure the safety of the dog, as a harness is more expensive than a collar & some adopters will not buy them for this reason. A harness distributes the weight on the chest & shoulders. It also has a handle on the back that you can grab if need be, without hurting your pet (EX: Dog falls off your boat, just grab the handle & pull your pet back in with no harm done. With a collar, you would have to strangle your dog when pulling your dog in). Also a dog cannot slip out of a harness, so it is much easier to restrain them & they will never loose their ID if they get lost.
If you need harnesses for your other dogs, additional harnesses can be purchased for a reduced price:
$5 for small
$6 for medium
$7 for large
No tax is charged
Rescue Group Info...
About Our Rescue Group...
Safe Haven Animal Rescue of AZ is a non-profit, no-kill animal rescue. We house all the pets through foster volunteers in a safe, loving home environment while they wait to be adopted.
Safe Havens goals are to save these pets from certain death by taking pets off the euthanasia list at kill shelters, & taking in owner surrenders.
Safe Haven also plans to work to get the laws changed in AZ to stop cruelty, & so that overpopulation is never again a reason that an animal is killed.
Safe Haven was started because Maricopa County has the second highest kill rate in the whole country for killing sweet, loving, adoptable pets for no other reason than pet overpopulation. With rates increasing as the economy drops. We could no longer stand by & watch.

*******We DESPERATELY need fosters for dogs & cats, (puppies & kittens too)!!! You can pick what type you want to foster, & tell us exactly what you want. You can take breaks in between your fosters for as long as you want. All we ask is that if you agree to foster, that you keep that pet until it is adopted. We will accommodate you any way we can. Safe Haven pays for all medical, & we can pay for the food too. With the recession, Maricopa County is getting animal turn-ins at record breaking numbers. The more fosters we can get, the more pets we can pull off the euthanasia list. If you are interested in fostering, please e-mail for our foster form. In it, you can tell us exactly what you want. Fosters will be chosen for you according to your answers. Thanks! *******
Come Meet Our Pets...
We are open everyday except Saturday, in order to honor the Sabbath.
Our Adoption Process...
Just e-mail for an application. A Safe Haven representative will contact you to set up a meeting so you can meet the pet you are interested in. If it is love at first sight, you can adopt them right then & there!
We Serve the Following Cities, Towns, and/or Counties...
Safe Haven Animal Rescue of AZ is currently serving all of Maricopa County in AZ (Phoenix, Scottsdale, Mesa, Tempe, Glendale, etc...)
Eventually, our goal is to do adoptions across the country.