Simpson County Animal Shelter
A 2194 Kenneth Utley Rd., Franklin, KY 42134 shelter helping to find loving homes for dogs, cats.
Contact
Phone
Email
Website
Pets at Simpson County Animal Shelter
Any
Baby
Puppy
Kitten
Young
Adult
Senior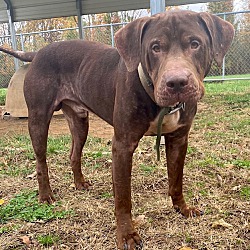 Act Quickly
Hero
Male, Adult
Labrador Retriever / American Pit Bull Terrier
1 - 1 of 1 Adoptable Pets at This Shelter
Areas Simpson County Animal Shelter Serves
Franklin, KY (Simpson County)
Simpson County Animal Shelter's Adoption Process
1. Visit the Facility and Find a Pet
2. Submit Application
3. Approve Application
4. Sign Adoption Contract
5. Pay Fee
6. Take the Pet Home
All pets are spayed/neutered before they are placed with their adopter.

Cats - up to $75.

Dogs - $95.

Adoption fees include: spay/neuter, FVRCP vaccine for cats, Distemper/Parvo vaccine for dogs, rabies, de-wormed, Flea Treatment, Microchip
About Simpson County Animal Shelter
Our goal is to help find homes for the animals that come into the Simpson County Animal Shelter ... to work with the community to educate and promote spay/neuter
We work with several Petco stores to help find homes for the many cats that enter our shelter. We participate in adoption events to place dogs and work with rescue groups to save as many lives as possible. We encourage our community to visit and adopt and our community leaders to stand with us in making this shelter a success in saving lives instead of euthanizing. We are a small shelter (16 dog runs) to serve a county of 17,000 and often that can be very challenging.
Come Meet Simpson County Animal Shelter's Pets
Simpson County Animal Shelter's Adopted Pets