Elizabeth Animal Shelter
A 518 Trenton Ave, Elizabeth, NJ 07202 shelter helping to find loving homes for dogs, cats, rabbits, small animals, birds, reptiles, amphibians, and/or fish.
Contact
Darcy Del Castillo
Phone
Email
Website
Pets at Elizabeth Animal Shelter
Any
Baby
Puppy
Kitten
Young
Adult
Senior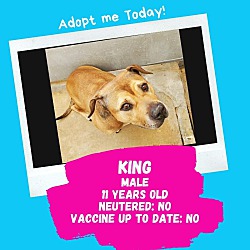 Act Quickly
King
Male, Senior
American Staffordshire Terrier
1 - 1 of 1 Adoptable Pets at This Shelter
Areas Elizabeth Animal Shelter Serves
Serving the town of Elizabeth,NJ
Elizabeth Animal Shelter's Adoption Process
1. Visit the Facility and Find a Pet
Please if interested in any pet seen online or other pet at the shelter. Stop by the shelter first to pick up a paper application.
2. Pay Fee
Once the application is filled out you must stop at the Elizabeth City Hall at 50 Winfield Scott Plaza
Elizabeth, NJ 07201 Pay adoption fee
3. Take the Pet Home
City Hall will accept your adoption fee/license fee and provide you a receipt to show the animal control officer. You then can take pet home
We promote adoption as much as we can for all our animals.
As of now there is a $10 dollar fee to adopt an animal from Elizabeth Shelter.

*If living in the City of Elizabeth, all adopted dogs must be fixed within the first 30 days of adoption.

*If you are renting an apartment, you must bring proof of contract agreement with landlord adhering to having a pet in your home.

Assuming all responsibility for the animal, such as annual vet visits and vaccinations, any extra medical expenses, spay/neuter your pet, and city licenses to your respective city.
About Elizabeth Animal Shelter
This page is volunteer created and managed to assist the Elizabeth Animal Shelter in finding forever homes for their animals and assessing any of their needs. All of the information comes from volunteers helping the ACO's and the animals of the shelter. If you have any specific questions, please contact the shelter directly at the contact information we have provided.

Please be advised, the Elizabeth Animal Shelter is a kill shelter because of the high volume of animal intakes. The volunteers work endlessly to help the animals have a short stay at the shelter. It's the adopters and fosters that can make this happen!
Come Meet Elizabeth Animal Shelter's Pets
The shelter is located inside the city's recycling center, through the gate.

Our hours are:
Monday-Friday 3:00pm-5:30pm
Saturday 3:00pm-4:00pm

*We strongly urge to visit the shelter to view more dogs that may not be up on adopt a pet because lack of picture. There are several more dogs in our shelter!

To find the dog at the shelter we recommend you take with you a picture of the dog, to better assist the ACO's in the dog your interested in!
Elizabeth Animal Shelter's Adopted Pets