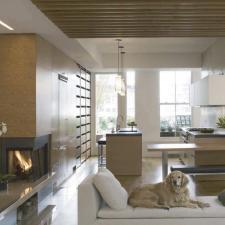 Photo courtesy of Joseph Koelbel Architect in Brooklyn, NY

When removing stains and other pet debris from your furniture, you don't want to spend half an hour or more on the project. Sometimes — in the worst cases — the stains are deep and require a lot of work or a professional cleaning service — but most times you can get it done in a few minutes. To get your furniture cleaning down to a science, here are some quick tips on removing pet debris:
General Tips:
1. Use dampened rubber gloves and run your hand over the furniture's surface to attract hair. Rinse the glove and repeat. You can use a wet sponge in its place.
2. Spray a mix of water and fabric softener on the furniture and wipe off.
3. For wood furniture, use a soft cloth and anti-static dust spray. Wipe and repeat.
New Stains Tips:
1. Soak up most of the moisture with newspaper and paper towels. Put down a layer of paper towels and newspapers, then stand on it. Repeat until about dry.
2. Rinse with water and blot with paper or a wet vac.
3. Use a pet odor neutralizer once the area is really clean. Follow instructions on the label carefully.
4. Use a carpet stain remover if it looks stained.
5. Vacuum the furniture if there are loose pieces of pet hair, dirt or debris.
What NOT to do:
● Avoid using steam cleaners as the heat will permanently set the stain and odor.
● Avoid using cleaning chemicals because the odor will remain and encourage a repeat accident.
Machine Washable Furniture Tips
Sometimes you invest in furniture with covers that you can throw in the washing machine. In such cases, just throw in about a pound of baking soda with your detergent for good measure. Air dry the covers instead of putting them through the dryer. You might have to repeat the process a couple of times if you still see the stain or smell the odor. You might also add an enzymatic cleaner, which you can find at pet stores.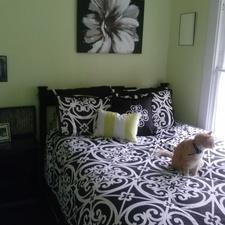 Photo courtesy of Dusting Diva in Jacksonville, FL

Upholstery Tags and What They Mean
When cleaning fabric upholstery, each type will have code, and its cleaning method will be different:
● Code W: Man-made fabrics that you clean with water-based cleaners.
● Code S: Organic fabrics that you clean with solvent-based cleaners.
● Code W/S: A mix of organic and man-made fabrics, so you can use water or solvent cleaners.
● Code X: Fabric that must have a cleaning professional handle them.
Conclusion
These are only some quick tips for removing pet stains from your furniture. When you have to deal with pet stains in other places, you might have to use alternative, deep cleaning methods. For more information on pet accident removal, check out this article on cleaning pet messes.
Written contribution by Andrea Davis, Home Advisor.