Hey! It looks like you're either on a mobile device or your browser window isn't maximized. The admin section of your shelter website currently only works on laptop or desktop computers with browser windows at fullscreen..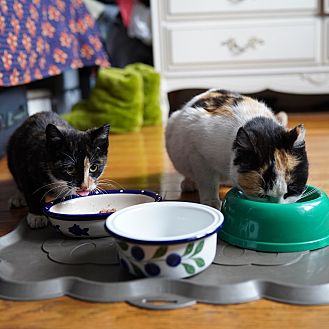 My Story
Cocoa is Reese's daughter! We rescued them from the streets together. She is getting her indoor socialization training right now to learn how awesome humans can be and how great it is to live with them! She will need some additional bonding and socialization time in her new home for a few weeks. Her new parents should be patient and ready to spend time with her so she can decide for herself just how awesome indoor VIP life is!
She is around 4 months old, litter box trained, spayed, vaccinated, FIV/FeLV negative.
Adoption Process
Potential adopters meet with us and the cat(s) either at our home or an adoption event. Potential adopters complete a simple adoption application, which we review and approve. If all parties are in agreement on the adoption we set a time to deliver the cat(s) to the adopter's home. Upon receiving the cat(s), adopters are asked to sign an adoption contract and for a tax-deductible donation fee of $125 per cat (or $175 per pair). Adopters are emailed all vet records and related forms.