Hey! It looks like you're either on a mobile device or your browser window isn't maximized. The admin section of your shelter website currently only works on laptop or desktop computers with browser windows at fullscreen..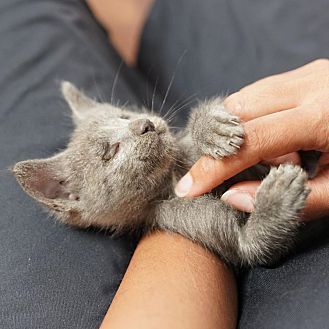 My Story
These kitties came to us with eye issues and still nursing from their mom (Ivy). They are sweet, adventurous, and curious little babies! We have paired them up such that visually-impaired kittens are being fostered and will be adopted together with a seeing "partner" kitten. Kittens adjust quickly, both to any disabilities and to the VIP treatment of in-home living, and will do even better with a playmate. This pair is Wonder, our very special blind baby boy, and his partner in crime Ruby. Even though he's half her size, Ruby teaches him how to wrestle and makes sure he is included in the group shenanigans.
Adoption Process
Potential adopters meet with us and the cat(s) either at our home or an adoption event. Potential adopters complete a simple adoption application, which we review and approve. If all parties are in agreement on the adoption we set a time to deliver the cat(s) to the adopter's home. Upon receiving the cat(s), adopters are asked to sign an adoption contract and for a tax-deductible donation fee of $125 per cat (or $175 per pair). Adopters are emailed all vet records and related forms.