Hey! It looks like you're either on a mobile device or your browser window isn't maximized. The admin section of your shelter website currently only works on laptop or desktop computers with browser windows at fullscreen..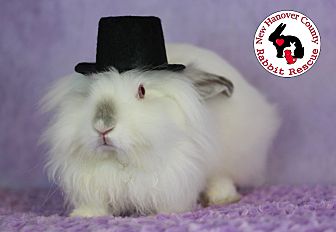 My Story
Boo
Neutered Male
Adult Est DOB 11-01-18
Lionhead
White / Albino
Weight 3.6
The shelter describes me as a "Daisy" which means that I like to explore, groom, and I will present for petting and may occasionally be seen to flop, binky, or thump. I am not shy and I will rarely hide in a shelter. In homes, Daisies particularly like to be stroked and will often present to a person for petting. Behaviors will be essentially the same in the shelter and home environment. Daises are probably the best rabbit for the adopter seeking a rabbit who will tolerate sitting in a person's lap and being petted. Daises usually do well with other rabbits and people (including children) because of these laid back personality traits.
DAISIES BEHAVIOR MARKERS
• OUTGOING
• LIKES TO BE PETTED
• LAID BACK PERSONALITY
• TOLERATES CHILDREN
• LIKES TO EXPLORE
Adoption Process
Signature on legal adoption contract required. Rabbits must be pets only NOT used for food or training any animal.