Hey! It looks like you're either on a mobile device or your browser window isn't maximized. The admin section of your shelter website currently only works on laptop or desktop computers with browser windows at fullscreen..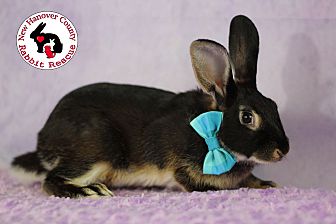 My Story
19-42
Jumper
Neutered Male
DOB 01/22/19
Silver Marten
Black / Tan
Weight 6.5 pounds
The shelter describes me as a Rose. These means that I have a mind of my own and it is evident even in the shelter environment. I am often seen chinning, exploring, head bumping, and presenting for petting. I may have also been seen binkying, headshaking, playing with toys. A few may tail flag or thump occasionally if they see someone or something they dislike. Hiding and cowering are almost never seen in these rabbits. Roses demand a great deal of attention in permanent homes and are not shy in making their demands known. A few of these may get along with other rabbits if they are submissive, but many Roses actively dislike other rabbits and may be difficult to bond, preferring human companionship to do their bidding.
ROSES BEHAVIOR MARKERS
• INDEPENDENT AND ACTIVE
• DEMANDING
• ALPHA RABBIT
• MAY NOT BOND WELL WITH OTHER RABBITS
Adoption Process
Signature on legal adoption contract required. Rabbits must be pets only NOT used for food or training any animal.