Hey! It looks like you're either on a mobile device or your browser window isn't maximized. The admin section of your shelter website currently only works on laptop or desktop computers with browser windows at fullscreen..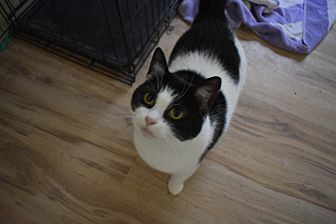 My Story
Lucy is a sweet and affectionate girl. She is 2 years old and fully vetted.
She loves belly rubs and getting lots of attention. She is not fond of being held but
is a great lap kitty. Lucy is happiest when she is the only kitty or with another very laid back kitty. She does not get along with dogs and will try to fight, so a home with a dog might not be suitable. Lucy is not very active and besides getting attention her other hobby is eating.
Lucy was abandoned in the woods but luckily she found her way to us and now she wants to find her way to you!
Adoption Process
An application must be completed and returned
Then we will schedule meet and greets
A contract must be signed and adoption fee paid before adoption is finalized.
Adoption fees vary depending on specials and circumstances, please check our website www.opawtime.org and facebook page www.facebook.com/opawtime to keep updated on adoption fees.