Dog adoption saves lives. Adopt a dog and you'll have a friend for life! Contact us, or contact another local humane society, animal shelter or SPCA.
Pets at Our Rescue Group:
Cities, Towns, and/or Counties We Serve:
All of our dogs are in foster homes within PA,CT,NJ,NY,MA,NH,ME. If there is a particular dog you are interested in please contact us at bbr.fostercare@gmail.com for more info!


Please scroll down our home page for further info!
About Our Rescue Group: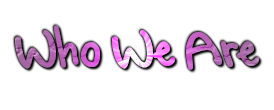 Bully Breed Rescue is a small rescue dedicated to rescuing and rehoming dogs that are the pit bull class of dogs, including American Pit Bull Terriers, American Staffordshire Terriers, Staffordshire Bull Terriers, American Bulldogs, and pit bull mixes. Our goal is to help give these precious misunderstood dogs a second chance at the wonderful life that they deserve by placing them in forever homes. All of our dogs have been temperament tested and we try to provide honest and complete information on each dog. We operate solely on our own funds, in addition to adoption fees, so we have to keep the rescue small. We do not have a shelter - all of our dogs are in foster homes, or sometimes boarding due to lack of foster homes.







To continue helping these animals, money is a necessity. If you can not adopt or foster an animal, please consider donating!!
If you would like to sponsor or donate please click the link below, e-mail BBR-Sponsor@listgoddess.com, or visit our page at www.bullybreedrescueinc.org. 100% of all donations go directly to helping the dogs!! This pays for Veterinarian expenses, Spay/Neuters,Shots,Food, and other necessities we need in order to keep the dogs healthy and happy!
Bully Breed Rescue is a 501 (c) 3 (non profit) organization. All donations are tax deductible.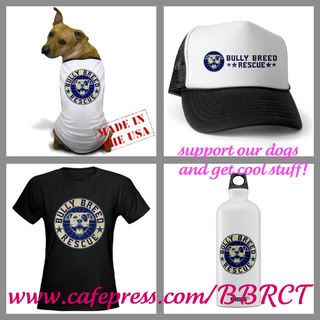 Please visit our Cafe Press store!! Proceeds from all sales go to help our dogs!





A Fundraiser for Bully Breed Rescue: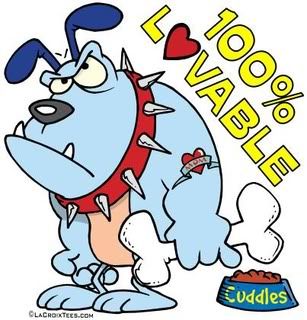 LaCroixTees.com is donating $5.00 for every T-Shirt sold from this section to us, Bully Breed Rescue!!

Great looking shirts, that help a great cause!
Visit http://www.lacroixtees.com/shelters/BullyBreedRescue/








We are in desperate need of foster homes and help with transporting dogs.
More info on Fostering:
If you adopt one dog, you are giving that one dog a permanent home. But if you can foster a dog, preparing it for life in a home, you are allowing that many more dogs to be placed in permanent homes.


While many people can't let go, others are reluctant to foster in the first place, thinking that it is somehow unfair to take in a dog, establish a bond, and then allow the animal to be adopted out into another home. Isn't that a second abandonment? Not at all, you are providing an animal with a loving temporary home, and getting adjusted while waiting for a forever home!


We will provide supplies, food, instructions and vet care. Foster parents willing to provide supplies and food themselves, will be helping the program out immensely.


Not only does a foster program maximize the number of animals rescued, it allows us to care for animals that would be difficult to care for in a shelter environment - orphaned or pregnant dogs, those recovering from major surgery, dogs needing one-on-one behavior rehabilitation and those that need a break from the shelter environment, foster care provides a comfortable home setting that will keep them happy and healthy.


Taking a stray or frightened animal and showing them that people can be kind, that food is available and that there is a warm place to sleep, creates a marvelous bridge to a new home. Those of us who provide foster space know that there is never a shortage of animals that need this preparation time before finding their own people. For more info on fostering or a foster application please email BBR.Fostercare@gmail.com







To adopt one of our little angels, an adoption application, home check, and references are required, along with an adoption fee of $200 dollars for adults, and $300 for puppies. Adoptions are based on interaction between the potential adopters and the dog. Our goal is to place a dog with the perfect family to ensure a forever loving home.










If you are interested in adopting any of our dogs please contact us at BBR.Fostercare@gmail.com or BBRCT@yahoo.com.

If you are interested in helping to foster a homeless bully please contact us at BBR.Fostercare@gmail.com

If you can not adopt or foster and are interested in sponsoring one of our sweet bullies please contact us at BBR-Sponsor@listgoddess.com






Bully Breed Rescue

Pennsylania

Email: BBRCT@yahoo.com

BBR.Fostercare@gmail.com

BBR-Sponsor@listgoddess.com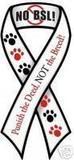 >
Come Meet our Pets:
Please contact us to set up an appointment to meet one of our amazing adoptables!
www.bullybreedrescueinc.org
Our Adoption Process:
We require and adoption application, reference check, home visit, and adoption fee of $200, $300 for puppies.
Our Adopted Pets:
We have helped lots of pets connect with loving and caring owners.
Check out our adopted pets list!