Meow! My name is SWEET PEA
Help me get seen and adopted!

Pin It
---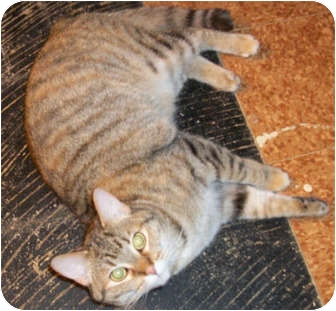 SWEET PEA's Info...
| | | | | | |
| --- | --- | --- | --- | --- | --- |
| Breed: | Domestic Shorthair | Color: | Brown Tabby | Age: | Young |
| Sex: | Female | ID#: | 3394237 | Hair: | Short |
I am already spayed, housetrained, and good with cats.
SWEET PEA's Story...
Sweet Pea was discovered in the middle of Xenia one afternoon during a fast-food stop. My family parked to eat and watched as a young kitten crawled up out of a storm drain to dart along a busy road to raid a hotel's garbage dumpster. She would snag something, then dart back and down the drain she'd go. That night my fiance and I returned to set up shop. We waited and waited for her to get hungry and curious enough to walk into the carrier (we didn't have a Have-A-Heart trap with us yet so we were trying it the hard way). I was perched quietly just a few feet away, ready for quick action. It took a couple of hours but she finally walked in to eat the pile of soft food and I sprang to quickly close the door on a shocked and scared kitty.
Beginning as a feral kitten, she has come a long way in a little over a year. She is a beautiful kitty, small but long and lean, and smart as a button. She loves to run and play with other cats, and enjoys good climbing arenas and hidy holes. And you can't forget her cushy doughnuts for sleepy time! She gets along with older and younger kitties, and loves to stash her toys. She also enjoys being coy with you, doing a little walk just out of your reach when she wants you to love on her. She'll look back over her shoulder while stepping ahead of you, and when she's ready, she'll slow for a scoop up, then adorably protests the whole incident while purring in your arms. She has some spunk to her; no lazy cat here. One of her favorite games is the Red Bug (that red laser dot -- irrisistable!). And sometimes, if she isn't trying to lure another cat to play, she will play hide-n-seek with you....of course, she is the one who hides! And when you find her, she coos loudly and runs like mad to another hidy hole!
Visit this organization's web site to see any additional information available about this pet.
Contact This Rescue Group...
Rescue Group:
Wishful Thinking Endeavors, Fuzzbucket Farm
Pet ID #:
3394237
Phone:

Please email this shelter!

(They don't list their phone number here)

E-mail:
Website:
Address:
P.O. Box 87
Jamestown, OH
45335
Help this Rescue Group by making a donation.
Rescue Group Info...
About Our Rescue Group...
At Fuzzbucket Farm, a furry division of Wishful Thinking Endeavors (WTE), our mission is to provide a no-kill environment for mistreated and unwanted felines, promoting the placement of our cats with responsible, loving families and if necessary, a lifetime refuge in our sanctuary.
When we drive down the street and see a stray animal, we don't drive away saying, "Somebody else will stop and take care of it." We are the ones who stop because we cannot bear to see an animal suffer. Animals don't choose to be neglected, abandoned or abused, but they are. We take in those animals; provide medical care and a safe, warm, loving environment; and then find them a forever home.
We have been rescuing and providing sanctuary for animals for over 15 years. It is amazing how much personality these little critters have. Each cat is an individual with his or her own needs and quirks. We hope to help these little furry personalities by helping them find a loving and nurturing home.
Come Meet Our Pets...
Email us for a visit with the kitties, wte_dreamers@live.com. You may also visit our website, http://wte.rescuegroups.org and our Facebook page http://www.facebook.com/fuzzbucketfarm to meet our fuzzy felines.
Our Adoption Process...
We want to ensure each animal is going to a loving and nurturing environment. We screen and interview each applicant for the safety and welfare of the animals. Our adoption fee of $75 is used to mitigate examination fees, vaccines, testing, spay/neutering, background checks and processing. The adoption fee does not cover a majority of the expenses, but it does show us the adopter is willing to provide and sacrifice for the sake of the animal. We look forward to providing these animals the best friends possible.
We invite you to help us by adopting rescues from us, other non-profits, the animal shelter or if you find one on the street. If you can't rescue, you can always help in other ways. Non-profits live by donations and adoptions. If you would like to sponsor an animal, send us towels or blankets, build us a cat tree, provide a bag of food or litter, sew us a bunch of catnip toys, or any other ideas that would make a kitty happy, we would love to have you contact us.
We Serve the Following Cities, Towns, and/or Counties...
Wishful Thinking Endeavors, Fuzzbucket Farm Cat Rescue & Sanctuary is a non-profit, 501c3 all volunteer-based animal rescue in southwest Ohio. We rescue cats, socialize them, adopt out, and provide educational information on cat issues (ex. behaviors, spay/neuters, allergies, trap/neuter/release, fostering, rescuing, etc.). We are a Miami Valley Ohio organization aiming to improve the quality of life for cats and also serve the community in raising consciousness towards the protection and care of our beloved pets. Our mission is to provide a no-kill environment for mistreated and unwanted felines, promoting the placement of cats with responsible, loving families and if necessary, a lifetime refuge in our sanctuary.
Most of our cats come from dumpsters, highways, back alleys, under sheds/porches, parking lots, and even found forgotten and locked up in foreclosed homes. They are usually abandoned, neglected, sometimes even sick and injured, and so many of them are frightened. We make every attempt to place each pet in the best possible home; therefore, they are not placed on a "first come, first served" basis. These cats have already been rescued once from a bad situation; we sure do not want them to have to go through that again. All of our cats are incredibly dear to us so we work hard to make sure they go to kind, loving, forever homes.
All cats brought into Fuzzbucket Farm are examined and treated by a local vet. Not only are the cats examined but they are also inoculated, microchipped, and spayed/neutered.
We believe there is a home for every cat. Before we will place a cat in his/her forever home, we will do our best to make sure their needs, as well as their new owner's needs, meet both physically and emotionally. We look for people with patient and loving hearts with the understanding of their new fur-kid in mind.
We believe that no cat should be euthanized due to the lack of a home. The cats that are not placed right away will stay at Fuzzbucket Farm until a suitable home is found for them.