Ruff Ruff! My name is Dixie-Foster home needed!
I found a new home!
Plenty of my friends are looking for one too. Find a pet to adopt.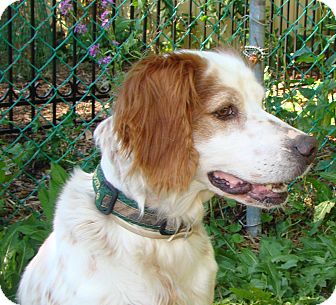 Other Pets at Shelter...
Dixie-Foster home needed!'s Info...
| | | | | | |
| --- | --- | --- | --- | --- | --- |
| Breed: | Brittany/English Setter Mix | Color: | White - With Red, Golden, Orange Or Chestnut | Age: | Senior |
| Size: | Med. 26-60 lbs (12-27 kg) | Sex: | Female | ID#: | 2012-979OH |
Dixie-Foster home needed!'s Story...
Dixie is a 9 year old Brittany/English Setter mix that was abandonded at a foreclosed home in Dayton, OH. She was always contained in her outdoor pen and lived outside her whole life :O(. When the IBR volunteer went to take photos, he said the pen hadn't been cleaned for weeks and the neighbors were feeding them.
Dixie has since been moved to Illinois and we really need a safe loving foster home for her. Here are her new photos on IBR Facebook .
We are also trying to raise funds for his care with our Setters ChipIn .

If you would like to help foster, please fill out our Foster application .

If you are interested in adopting this pet through our rescue organization, please go to the Adopting A Friend section to read about our pre-adoption policies and vetting protocols.

Please help us reach our fundraising goal so we can continue our work helping save these homeless hunters and other abused and neglected dogs and puppies! We have a long way to go and any amount --big or small--will make a huge difference especially if the dog or puppy is in an area where they use gas chambers to euthanize.
We see the worst that humans can do to defenceless animals- but with your donation- we will be able to do more to end the suffering of many frightened dogs and puppies.

Others Ways You Can Make a Difference

Shop for custom calendars, mugs and T-shirts at our Café Press fundraising website and choose merchandise featuring Pointers, Setters, Hunting Dogs or Friendly Mutts. All of our calendar stars are rescued dogs that would have been euthanized in shelters across the Mid-West had IBR not stepped in to save them. Your support does make a difference!!


Help offset the high cost of our vetting bills via the Petfinder.com Sponsor-A-Pet link. Illinois Birddog Rescue has always prided itself in not turning away any sick and injured dogs; animals that most shelters would have euthanized. We have saved many dogs with heartworm, tick borne illnesses, broken legs, missing legs, blind dogs, a new deaf puppy, dogs suffering from Parvo and especially senior dogs that may need expensive health care to help them get ready for adoption. In February of 2006, in one weekend, we brought in 20+ dogs from the Boat Mountain Tragedy, and that depleted our emergency funds.
Your donation will not go unnoticed. In addition to helping save lives, when you donate your name will be added to the Illinois Birddog Rescue Donations and Rescue Sponsor List.
Become an IBR foster home and help give a rescued dog or puppy a second chance at a new happy life. The work and dedication of the current IBR foster families can be seen by clicking HERE! You are not just fostering a dog, you are joining a birddog family! If you would like to become a foster home and join our enthusiastic group of birddog lovers, please fill out an online foster home application.


Shop and search the Internet using iGive.com and iSearch.iGive.com - Two great ways to help us raise funds while using the Web. It's free and there is no limit or hidden fees. Give them a try here:

iSearch.iGive.com is a fun and easy way to raise money while searching the internet. The donation is $0.01 per qualified search (no limits) and if you are logged in as an iGive.com member (membership to use iSearch is free and optional) you can keep track of your individual contributions through searching and shopping. $0.01 per search may not seem like much, but with our combined efforts it can add up very quickly and make a difference for our rescued dogs. iSearch.iGive.com is powered by Yahoo! search engine. Start searching the web and download the iSearchiGive toolbar to earn every time you search by clicking here:
Shop Helping Udders, a fun place for cool and unique dog stuff not found in stores. Select "Illinois Birddog Rescue, Inc" during the checkout process and 10-50% of every purchase you make will go to support our rescue. Click here to visit the home of the original Udder Tug and to find that unique gift you've been looking for:
Monetary donations can also be mailed directly to IBR, PO BOX 364, Wood Dale, IL 60191.
Illinois Birddog Rescue, Inc is a 501c3 not-for-profit charity licensed by the Illinois Department of Agriculture.
Rescue Group Info...
About Our Rescue Group...
Who We Are...
--------------------------------------------------------------------------------

Our Mission Statement
It is our mission to provide a temporary safe haven and rehabilitation for field bred English Pointers and English Setters found homeless in shelters. In an effort to find the dogs homes, we also hope to educate the public on dog health and training. We also work to dispel such myths as "a neutered dog won't hunt" and "you ruin a hunting dog by letting him live in the house."
About IBR
Illinois Birddog Rescue, Inc. is a 501c3 not-for-profit organization dedicated to saving, transporting, vetting, fostering, and adopting homeless American Field-bred English Pointers and English Setters - a group of canines commonly known as BIRDDOGS. We are funded solely from adoption fees and donations. Since our slow beginning in October of 2001, we have placed over 500 dogs and puppies.
Most of our rescue dogs are in foster care in the Chicagoland area with a wonderful group of volunteers who dedicate their free time and energy to help the dogs get ready for their forever homes. While in foster care, the rescues live in a home and are socialized with other dogs, people, children, and cat tested if possible. To assure that they will make good house pets, our rescues are also taught basic manners, are housebroken and crate trained. Unfortunately many of the rescues that come in have been abused or are in poor health. We take care of any medical issues and give these dogs lots of TLC.
On occasion we test the dogs hunting instinct using planted pigeons or quail to see if they have any scent pointing ability. Seeing one of our birddogs pointing a bird by scent alone is a beautiful thing. We have successfully adopted out our dogs to hunters as long as they are spoiled rotten house pets first.
While our organization focuses on pointers and setters, we also work in conjunction with other birddog groups across the country who save Brittanys, German Short-haired Pointers, and Setters by helping them transport their homeless hunters to safety.
Our Adoption Process...
Because we want to make sure our dogs live long healthy, happy lives, we will only place our dogs into non-smoking homes.
At the time of adoption, the fee will be collected and an adoption contract signed.
In the weeks following the adoption a member of our group will contact you and do a follow-up obedience or dietary home visit, if needed. We want to make sure you and your new family member are completely happy and healthy!
We Serve the Following Cities, Towns, and/or Counties...
Our foster home network is based out of Chicago- but we have additional foster homes in Champaign and Springfield, IL. We also have foster homes in St. Paul, MN, Madison and Lake Geneva, WI, Indianspolis, IN, and Columbus, OH.