Ruff Ruff! My name is Lucy
I found a new home!
Plenty of my friends are looking for one too. Find a pet to adopt.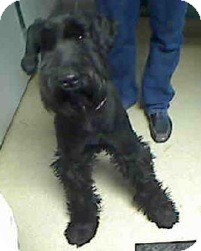 Other Pets at Shelter...
Lucy's Info...
Breed:
Giant Schnauzer
Color:
Black
Age:
Young
Size:
Med. 26-60 lbs (12-27 kg)
Sex:
Female
Lucy's Story...
Lucy is an adorable youngfemale giant schnauzer who was turned into the Utah Humane Society because her family could no longer keep her. Lucy has seizures and is on medication for them. Lucy has started having seizures and is fairly heavily medicated for them. She also has strong alpha tendencies so she needs to be an only dog or with a male dog who won't challenger her for alpha status. Every where she goes, people adore this girl. She will probably have to be on medication for life. Her tail is docked but she does have natural ears. We were told that she came from a family with children. She fought kennel cough for awhile after she came but now she is through with all of that and has been spayed.
The giant schnauzer is a high energy and extremely intelligent companion. The giant schnauzer is NOT a larger version of a mini schnauzer. In the right home the giant is a wonderful dog. The right home consists of a person or people who are willing and able to deal with this breed's independent thinking and playfulness. They have a very dominant personality and a bold, in in-your-face attitude. Giants can be a handful even for experienced, working dog owners. Owning a giant is for people who love a daily challenge for the life of the dog. Giants do not necessarily mature and calm down at a certain age.
The keys to living successfully with a giant schnauzer include training, socialization, and providing both physical and mental stimulation daily. Giant schnauzers need all of these to become well-mannered dogs, and they need them in abundance. The breed is well known for its intelligence, and they can be easily trained when their people are firm and consistent. This training cannot be harsh. Their human must understand how to control the giant without getting angry.
Giants are NOT outdoor dogs. They must live indoors with their owners. They can become quite destructive if they do not receive enough exercise and stimulation daily. Apartments are not good homes for a giant unless the owner is devoted to at least twice daily, vigorous exercise with their dog. A dog park alone is not the answer. While a dog park can provide a lot of exercise, it is suggested that a giant not be taken to one until the owner has a firm recall of the giant and has checked out the dogs at the dog park. Many people will not take their dogs to a dog park for numerous reasons. A small one with few dogs would be the best choice or going when there are not many other dogs at the park.
Rescued giant schnauzers are among the more dominant breeds and not recommended for homes with young children under the ages of 8 to 10. A giant must be socialized with people, other dogs and other animals. Some giants can live peacefully with smaller dogs or cats but you must not leave them together if unsupervised. They must be slowly integrated into the family. Until then, one must be crated or stay in a separate room when the owners are not home. Giants with high prey drive may never be able to live with cats or small dogs.
A giant can be distrustful of strangers. A giant schnauzer is protective of both home and family and very willing to defend them with intimidating fierceness. When the giant is not in protection mode, he's a playful and affectionate companion.
In summary, a giant can be your best friend or your worst enemy if not properly trained and socialized. The intelligence of a giant can pose a challenge to the inexperienced owner. Giant schnauzers require consistent and firm guidance throughout their entire lives. Without it, they're quite capable of thinking for themselves and running the household the way they think it ought to be run. Obedience training is required for both the giant and the giant's owner. An experienced and qualified trainer can help the owner prevent problems.
VSGSR will be happy to talk to you about adopting a giant schnauzer. Our intent is to find the perfect home the first time and avoid the pain of dealing with failed adoptions. We do this for the love of the breed. Most members of Valley of the Sun Giant Schnauzer Rescue have more than one giant that we personally own and wouldn't have it any other way or any other breed. The giant schnauzer has stolen our hearts and we want only the best for the dogs that come into our care.
Lucy''s adoption fee will be $350. If you are interested in Lucy, please email us phxgsrescue@hotmail.com Applications in the immediate area are given preference and you need to be within driving distance to come and pick up a dog. We do not ship our dogs. When you adopt a dog from us and for some reason it doesn't work, the dog must be returned to VSGSR and a full refund is given within the first thirty days. Any dog adopted from us at any time comes back to Valley of the Sun Giant Schnauzer Rescue if the adopter can not keep the dog. We are responsible for our dogs for their lifetime. And we hope our adopters are also. We are needing foster homes for the Memorial Day Weekend. If you are interested in adopting, this might be a good way to meet and know a dog. We will require an application to adopt to foster for the weekend.
Rescue Group Info...
About Our Rescue Group...
We are a Giant Schnauzer rescue, although we do help with others when asked specifically to do so - miniature schnauzers, schnoodles, Dobermans, etc., and have helped other folks get involved in forming a 501(c)(3) organization of their own. We take in rescues from shelters (Giants do not do well in a shelter environment - they can become protective of their kennel, and they are a "velcro" dog - need to be with their humans) and other situations (i.e., divorce when no one wants to keep the Giant), etc., vet check, rehabilitate where necessary, and then place in a loving home with someone willing to put in the time and effort on a pet after doing a home visit. A Giant is NOT a dog that can be left in the back yard by itself. They need human companionship. All of our members are volunteers, and we do it stricly for the love of the breed.
Come Meet Our Pets...
Currently our pets can be found on Petfinder.com. If you'd like to meet them, they need to contact Deer Creek Animal Hospital where many of our pets are being fostered. They get plenty of care and attention, as well as playtime!!!
Our Adoption Process...
We require a home visit. Our adoption fee is based on age, and we do have an adoption contract that must be signed prior to adopting. Our adoption contract is for the safety of our rescues. And, yes, we have had dogs returned to us due to health problems of family members, etc. If you are interested in one of our dogs that are available for adoption, please email us at phxgsrescue@hotmail.com for a faster response.
We Serve the Following Cities, Towns, and/or Counties...
Arizona, Nevada, New Mexico; however, we assist with Giant Schnauzer throughout the country.