Meow! My name is Sally
I found a new home!
Plenty of my friends are looking for one too. Find a pet to adopt.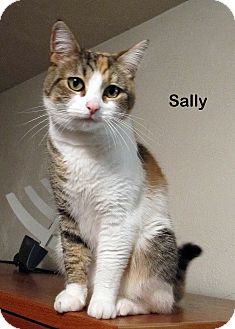 Other Pets at Shelter...
Sally's Info...
Breed:
Domestic Shorthair
Color:
Calico Or Dilute Calico
Age:
Adult
Sex:
Female
Hair:
Short
Sally's Story...
Sally is a bundle of fun and sweetness all rolled into one. Whenever a new person walks in the house, Sally acts as "Main Greeter" and takes her job very seriously. Meowing a greeting as she goes, she trots right on up to visitors for some sniffing followed by pets and head scratches. She doesn't mind a little bit of a nose rub while you're at it, please!
Sally was born in June of 2009, so she is old enough to have perfect manners - she knows just where to scratch and exercise her claws, and has impeccable litter box habits - while still having lots of young kitty energy and playfulness. She likes to play with wand toys and will amuse herself with balls and other small toys when her people are busy. But when she's done and her playful energy is exhausted, she would like a nice lap to snuggle up on. TV, reading, or working on the computer are all acceptable, so long as your lap is horizontal and allows for her to curl up for a nap. At night she likes to sleep on the bed and we suspect that once she's in a home with fewer cats, she will take advantage of the extra space on the bed and become quite the snuggler.
Sally is living in a home with other cats and gets along with most of them just fine. She is slightly dominant, so we think she'd do best with a laid-back cat buddy, or as an only cat in her own home.
Sally has a sweet, soft meow and is very vocal. She is not shy about letting you know when she's hungry, wants playtime, or when she would like you to turn on the faucet in the sink so she can have a drink, please. Besides being Main Greeter, Sally's other job is Chief Inspector. She inspects the house regularly to make sure that all is in order, and is happy to give you a running report throughout her inspection. She makes sure to keep an eye on the outside, too, by checking out all the windows and keeping track of birds and squirrels in the area.
As you can see from her pictures, Sally has a very unique coat that is a mix of tabby and calico. Her coat is thick and soft, and she keeps herself very clean. She is also very well-behaved about having her nails clipped. Sally's adoption fee is $80.
Sally, like all ARCF cats for adoption, has been spayed, microchipped, is up to date on vaccines, and has tested negative for FeLV and FIV.
If you are interested in meeting Sally, please fill out the "I'm interested" form at our website, and our adoption coordinator will respond promptly. Please note that we place cats in the following counties only: Multnomah, Washington, Clackamas and Clark.
Animal Rescue & Care Fund, Inc. is a small rescue organization. We rescue homeless animals only, and do not accept owner-surrendered pets. All our animals live with volunteers in their homes until they are matched with the right permanent family. Thank you for considering one of our pets for adoption.
Rescue Group Info...
About Our Rescue Group...
Animal Rescue & Care Fund, Inc. is a private, non-profit, tax-exempt organization based in Portland, Oregon, funded solely by donations and operated by dedicated volunteers who provide good temporary homes for cats and dogs until they are adopted into responsible permanent homes.
Our mission is to rescue, shelter, and care for homeless animals and place them in permanent responsible homes, and to promote and support spay/neuter for companion animals.
All our rescued cats live with volunteers in a home environment where we evaluate them to find out how they interact with people (lap sitter, very outgoing, laid back, a little reserved, good with children, etc.); and how they are with other pets (are they loners, do they enjoy another pet's company, perhaps they like a nice dog better than another cat). Knowing these personality traits before adoption helps you choose the best pet for your family, and helps us choose the best families for our animals.
Animal Rescue & Care Fund, Inc., depends entirely on your donations (which are tax-deductible). All funds are used exclusively for veterinary care, food, classified advertising to find suitable homes to place animals, and for publishing the quarterly newsletter "Animal Talk." What we do wouldn't be possible without you. Your donations make it possible for us to rescue and rehabilitate animals that might never otherwise find a good home. Much of your donation goes to pay our substantial veterinary bills and other direct care for our animals.
Come Meet Our Pets...
To visit a pet that you are interested in adopting, contact us to set up an appointment. We do not have a shelter, but rather foster all of our animals in our volunteers' homes. This allows us to get to know their personalities quite well, and allows us to give you information helpful in making the decision about whether a pet is a good match for you. We look forward to hearing from you!
Our Adoption Process...
Because our goal is to find the best home for all of our foster cats, our adoption process includes a number of steps to help us determine which cats would work well in your household, and to help you determine which cat will be perfect for you or your family.
1. The Application The process begins when you complete and submit the Adoption Interest Form. Please fill the form out completely; the more information we have about your household, the more quickly we can evaluate your needs and what animals would be good in your home.
2. The Interview Within a day of receiving your interest form, one of our volunteers will speak with you over the phone to see if we have a pet that is a match for you (or if the pet you're interested in is a good match). For example, we will ask about your home and members of your household, your lifestyle, and your pet history. At this time the cat coordinator may suggest you meet a different pet whose personality and energy level they feel more closely matches your needs.
Based on our conversation with you, we may feel that your household is not a good match for the pet you have in mind. It is always hard for us to turn a potential adopter away, but we feel that our first obligation is to the pets in our foster homes.
3. The Information Verification We will confirm ownership of your residence or may contact your rental property manager to ensure that pets are allowed on the premises. We may also contact your veterinarian to ask questions about the veterinary care that you have provided to your current or former pets. We will also evaluate your home/apartment exterior for things such as a fenced-in yard, screens on windows, house/yard are well taken care of, quiet street, etc.
4. The Meeting We will invite you and all members of your household to visit the animal's foster home to meet your prospective pet. This is the first opportunity you have to meet the pet, and is the most important aspect of making the final decision (on your part and ours) to proceed with the adoption. If the match appears to be a good one, you can take the pet home that day or choose to take time to think about your decision.
5. The Adoption Before taking your new companion home, you and the foster home will sign the Animal Rescue & Care Fund contract, which stipulates (among other things) that you will take your new pet to the vet at least once per year, will not declaw (for cats), will return the pet to us if for any reason you can no longer take care of it, and that all other pets in your family are neutered or spayed. Once the contract has been signed, you are free to take the pet home, along with a starter kit provided by us (food, animal carrier, litter box, scoop, toys, etc.).
6. The Follow Up We will follow up with you to ensure that everything is working out with your new pet, and to see if you have any questions. We want to help make the transition easiest for you and your new pet, so we are always available to discuss concerns and answer any questions.
7. The End Everyone lives happily ever after!
We Serve the Following Cities, Towns, and/or Counties...
We adopt out to the following counties only: Multnomah, Clackamas, Washington, and Clark.