Hello! My name is Tame 11 Y.O Congo African Grey
I found a new home!
Plenty of my friends are looking for one too. Find a pet to adopt.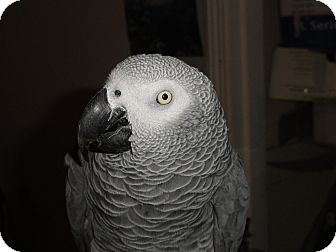 Other Pets at Shelter...
Tame 11 Y.O Congo African Grey's Info...
Breed:
African Grey
Color:
Gray
Age:
Adult
Sex:
Female
Tame 11 Y.O Congo African Grey's Story...
Josephine is a Happy Tame 11 Y.O Congo African Grey
Josephine is a great bird for any family. She is hand tame, and speaks a variety of words. She is an 11 years old young girl. She loves fruits and veggies.
She has a large cage that must come with her. Her adoption fee with cage is: $800.00
*We insist on a, mandatory home visit prior to placement. So for this reason, all applicants need to live within 40 miles of Portland Oregon. *Sorry No exceptions.
• *Sorry (No Exceptions). Please live within 40 miles of Portland, Oregon. * No exceptions!
• NO PHONE CALLS
• Only if you're ready to adopt, then please e-mail us or send a phone number.
Please, No endless e-mails with questions. We can answer all questions by phone.
• PLEASE * E-MAIL US once with phone number
• We will not place any bird in a home that has any dachshund dogs or and Terrier mix breed dogs. Both of these breeds of dogs have a bad history of injuring and killing birds Here's a link with a few additional photos.
http://s304.photobucket.com/albums/nn177/NWBR4/Josephine%20is%20a%20Happy%20Tame%20Congo%20African%20Grey/
Rescue Group Info...
About Our Rescue Group...
A brief description of our Founder; Christopher Driggins
Since 1986 Christopher "Birdman" Driggins has been placing rescuing exotic birds and started rescuing wild bird in 1995 in Southern California. Christopher Driggins started rescuing birds on a larger scale in the fall of 1999 in Oregon City, Oregon where he started Oregon City Bird Rescue (O.B.E.R.) out of a small apartment in Oregon City Oregon. He began placing exotic parrots to the special needs individuals in the community. Christopher then expanded his bird rescue efforts and purchased a house in Vancouver Washington in the fall of 2001. Christopher then started "Birdman's Exotic Bird Rescue and then incorporated his name to N.W.Bird Rescue & Adoption Orphanage in February of 2006. N.W. Bird Rescue is a bird welfare organization provides for the complete physical, psychological and environmental well being of the birds in the organization's care. Christopher focused on the welfare of orphaned exotic birds in the Southwest Washington area and the Portland Oregon metro area. Christopher Driggins "N.W. Bird Rescue" is a bird welfare organization insures that whether the birds remain in a sanctuary, in rehabilitation, and are placed into adoptive or foster homes, or local wild birds are released back to their natural habitat, that the birds are continually nurtured. The bird welfare organization also provides for the general welfare of birds in the public domain by providing accurate, comprehensive and reliable educational materials and resources to the public.
The Organization provides sanctuary and cares for all birds that are exotic that are suitable for adoption or placement in foster care or for persons that have specifically requested that their birds remain in permanent sanctuary. All sanctuary birds receive the same high level of care as the birds available for adoption and foster care. Sanctuary birds are housed in species-specific rooms of our main facility and have access to outdoor flights, abundant enrichment, and psychological and environmental support on a daily basis. The facilities provide:
• A safe haven for birds that prefer not to interact with humans in a companion animal situation as well as those that need a new human companion and are available for adoption.
• A home for birds with chronic disease with supportive care and nurturance.
• Staff dedicated to meet the needs of the individual bird.
• Educational programs that focus on some of the sanctuary birds' specific needs or problems, indigenous habitats, conservation status, or social interaction to promote the parrot welfare cause
• Nurturing and care for wild birds that are injured or in some specific need of our services so that they may be returned to their natural habitat or sanctuary as quickly as possible.
The organization defines "to rescue" is to bring a bird that is in an acute, life threatening situation or is in immediate need of assistance into a safe environment to be cared for by a knowledgeable and dedicated staff committed to improving the bird's quality of life. The organization rescues:
• Birds found in deplorable conditions or in danger either by the general public, the foundation itself, or by animal control officers.
• Birds owned by owners who, because they were unable to provide a safe environment for the birds, turned the birds over to our Organization.
Come Meet Our Pets...
We will announce our adoption events
Our Adoption Process...
All adopters are required to sign an agreement that allows us to conduct a pre-home visit, and one possible post home visit within the first two years of placement of an exotic bird.
Rehoming fee is required for all placements.
We Serve the Following Cities, Towns, and/or Counties...
S.W Washington State,Portland. Oregon