Hello! My name is Ziggy & Rickie
Help me get seen and adopted!

Pin It
---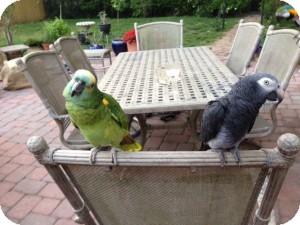 Ziggy & Rickie's Info...
Breed:
African Grey
Color:
Gray
Age:
Adult
Sex:
Female
Ziggy & Rickie's Story...
These two girls are very funny! Ziggy talks up a storm when she doesn't think you're listening. I t sounds like she's scolding someone and then you'll hear 'C'mon", "here", "pretty girl", "whatcha doin'", "hi Ziggy", "Who's your daddy" and a couple of other words very clearly. Morning and evening are her best talking times. She and Rickie like to visit on Rickie's cage. Rickie is more dependent on Ziggy than the other way around. Rickie still doesn't like to step up when she's on her cage but is getting very good at whistling and dancing. Loves to whistle part of "row, row, row your boat' and dances in a circle when her foster mom bobs her head and whistles. She also likes to talk and is starting to say "hello" and "careful" – hard to understand but she'll repeat these words several times if you say them back to her. They have both been converted over to a pellet diet and can't get to their food fast enough in the morning. Ziggy bounces back and forth from foot to foot and Rickie will pull the door of her cage shut to maneuver her way to her food. Very funny! They love almonds, grapes and sometimes chop, as well as scrambled eggs!
ZIGGY: Well, to start with, I'm a happy, social girl – now that I've settled in to my foster home and know the routine, I love to spend time helping make our food and just generally hanging with my foster mom. I'm a little cage aggressive, but getting better every day. My foster mom hears "Ziggy – who's your daddy?" and laughs a lot so she must be amused. I've progressed from a seed diet to partial pellets and partial nutriberries. I love pistachio nuts and fruit (grapes, mostly) and my foster Mom is introducing me to fresh vegetables too. I also love my baths with warm misting water. I don't particularly like being scratched but am learning the "touch" language – happy voice with a "touch" sound. I'm a happy girl who whistles and talks. I'm probably about 12 years old and a Timneh African Grey.
RICKIE: I'm a very sweet girl – 12 years young and a pretty blue-fronted Amazon. I'm very shy – it's taken my foster mom a while to be able to be near me so I don't scramble on to the top of my cage. She likes to talk with me and whistle and I'm learning "Row, row, row your boat" and "Frere Jacques". I can't whistle them all yet but I'm working on it. I'm pretty quiet although I do like to talk to myself. I'm still on a seed diet but have graduated to a good one (and I am sure my Mom will keep hounding me about trying pellets) and my foster mom is going to make some chop for me to try. I'm a very picky eater but if the chop is good, I'll eat it. I'm very quiet – I talk to myself a lot – but don't scream or carry one. If you have the patience and love for a girl like me and my best friend Ziggy, please think about adopting us!
Contact This Rescue Group...
Rescue Group:
Florida Parrot Rescue
Phone:

Please email this shelter!

(They don't list their phone number here)

E-mail:
Website:
Address:
Tampa, FL
33637
Rescue Group Info...
About Our Rescue Group...
Florida Parrot Rescue is dedicated to the rescue and rehabilitation of companion parrots. We strive to educate parrot owners on proper handling and care of parrots. Should someone be unable to keep their bird(s) for ANY reason, we want them to know there is a place to turn, and that they are not alone. It is our goal to provide a safe haven for birds that cannot stay with their owners or birds in need, and then to find those birds permanent forever homes with loving and responsible families.
Come Meet Our Pets...
Our rescues are located in homes through out the state. We will work with the fosters and potential adopters to set up dates and times.
Our Adoption Process...
We require an application which is free of charge, an adoption fee which varies on the bird you wish to adopt. We do NOT adopt our for breeding purposes.
Rescue and rehabilitate abused and neglected birds
Veterinary care and treatment for birds in need
Provide parrot owners with a place to bring their birds in the event that they can no longer keep them.
Educate new & current parrot owners on proper care & handling of their companion parrots.
Adoptions & Adoption Counseling
Behavior Counseling
We Serve the Following Cities, Towns, and/or Counties...
If you are interested in adopting, please go to our website at www.floridaparrotrescue.com to read the biographies and see the pictures of all of the available birds. On the website you can also read our adoption requirements and get the application for adoption. Once you complete the application, you can e-mail it to us at flparrotrescue@aol.com and our adoption coordinator will then contact you. Please e-mail us if you have any questions and please share this post for us to anyone you think may be interested. Thank you all!