Hello! My name is ANGIE GREENWING Macaw
Help me get seen and adopted!

Pin It
---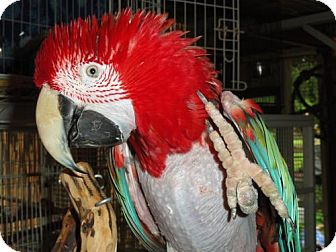 ANGIE GREENWING Macaw's Info...
Breed:
Macaw
Color:
Red
Age:
Senior
Sex:
Female
ANGIE GREENWING Macaw's Story...
Angie is a very sweet wonderful cuddly Special Needs Tame Greenwing Macaw. * (PLEASE NO PHONE CALLS! * E-MAIL US FIRST)* Angie isn't very vocal (LOUD) but we will only consider placing her in a new home that is a house, not an apartment, condo or duplex. (No exceptions) We must conduct a pre-home visit before we will bring her out to meet her possible new family. Sorry no visitors to our residence. * (PLEASE NO PHONE CALLS! * E-MAIL US FIRST)* Because of our pre home visit requirement we insist that her new home must be located within 40 miles of Vancouver Washington or Portland Oregon metro area. *No Exceptions Sorry. Angie is a very special senior girl, she is good with children over 10 years of age (Supervised), and loves both men and women. Angie can wave hello, she can say Hi! With an enthusiastic voice, she can say her name; she will say do you want some when you offer her a treat. She will also say Ummmm... Good when she gets a treat she likes, (While dilating her eyes and wiggling her head) she says water and more.. Angie is a real clown when it comes to performing for a crowed. She is a real treat to have. Angie is extremely trustworthy. She has never been in her cage in over a year; and we hope Angies new home wont cage her. Angie Will stay on top of her tree or on top of her cage or on her perch and or play swing. If she gets intimidated by the vacuum cleaner she may open her large cage door and hide until the vacuum is off, but that scenario rarely happens. She has a great temperament and enjoys cartoons. She is very submissive. And sweet Angie also gets along with most dogs; she will ignore elderly cats and most other birds. Angie was once intimidated by a Scarlet Macaw and a Goffins Cockatoo. Other than the visual look of her feather plucked chest. (Which her feathers will never grow back) Other than her feathers Angie is a perfect sweet, smart, cuddly girl. A big part of Angies diet is a lot of fruit and veggies. Now because of all of Angies special qualities, we hope you understand why we will be extremely picky about her new home. We are seeking and recommend an experienced macaw handlers home that is kept warm most of the time due to Angies bare feather plucked chest. * (We prefer that her new home is a house which is being purchased by the adoptee. Or at least the new adoptee have a long term at there residence and or a long term residency in the community) We will not place Angie with anyone under the age of 26 years of age. * (PLEASE NO PHONE CALLS! * E-MAIL US FIRST)* We also hope that Angies new home wont have too many other pets. In addition, Angies has suffered her feather plucking due to separation anxiety from her first owner. If her new owners leave her for more than 24 hours, she has a history of becoming depressed and she may start to feather pluck again. Due t of all of Angies special needs, Angies adoption fee will be very reasonable. We will ask that Angies selected new home invest in a large new manzanita or ribbon wood tree for Angie. (Please DO NOT go and purchase a tree now, and try to impress us. We will let the right candidate know when to purchase a tree) we will also insist on a post visit after we place Angie. If you are serious about adopting Angie, and are ready to adopt her now, Please e-mail us your contact phone number and we will call you. All questions can be answered by phone. * (PLEASE NO PHONE CALLS! * E-MAIL US FIRST)* If this post is still up, we are still seeking the proper home for Angie. Thank you for reading
**** Home visits are required for all adoptions before a meet and greet with any available orphaned bird*
*Please NO phone calls.*
If you are interested in adopting please follow the link below to our adoption application and adoption policy. Please send us a completed adoption application attached to: nwbirdrescue@gmail.com
Link to application: https://docs.google.com/file/d/0BwJiwK2h0GJRSjlpUjlKRVp0SzA/edit?usp=sharing
Here's a link to our adoption Policy: https://docs.google.com/file/d/0BwJiwK2h0GJRZk5RZGNCX0V0aVk/edit?usp=sharing
Contact This Rescue Group...
Rescue Group:
N.W. Bird Rescue
Phone:

(360) 247-3626
Let 'em know you saw "ANGIE GREENWING Macaw" on

Adopt-a-Pet.com!

E-mail:
Website:
Address:
13245 SE Mill Plain Blvd.
Suite C-8 #101
Vancouver, WA
98684
Help this Rescue Group by making a donation.
Rescue Group Info...
About Our Rescue Group...
A brief description of our Founder; Christopher Driggins
Since 1986 Christopher "Birdman" Driggins has been placing rescuing exotic birds and started rescuing wild bird in 1995 in Southern California. Christopher Driggins started rescuing birds on a larger scale in the fall of 1999 in Oregon City, Oregon where he started Oregon City Bird Rescue (O.B.E.R.) out of a small apartment in Oregon City Oregon. He began placing exotic parrots to the special needs individuals in the community. Christopher then expanded his bird rescue efforts and purchased a house in Vancouver Washington in the fall of 2001. Christopher then started "Birdman's Exotic Bird Rescue and then incorporated his name to N.W.Bird Rescue & Adoption Orphanage in February of 2006. N.W. Bird Rescue is a bird welfare organization provides for the complete physical, psychological and environmental well being of the birds in the organization's care. Christopher focused on the welfare of orphaned exotic birds in the Southwest Washington area and the Portland Oregon metro area. Christopher Driggins "N.W. Bird Rescue" is a bird welfare organization insures that whether the birds remain in a sanctuary, in rehabilitation, and are placed into adoptive or foster homes, or local wild birds are released back to their natural habitat, that the birds are continually nurtured. The bird welfare organization also provides for the general welfare of birds in the public domain by providing accurate, comprehensive and reliable educational materials and resources to the public.
The Organization provides sanctuary and cares for all birds that are exotic that are suitable for adoption or placement in foster care or for persons that have specifically requested that their birds remain in permanent sanctuary. All sanctuary birds receive the same high level of care as the birds available for adoption and foster care. Sanctuary birds are housed in species-specific rooms of our main facility and have access to outdoor flights, abundant enrichment, and psychological and environmental support on a daily basis. The facilities provide:
• A safe haven for birds that prefer not to interact with humans in a companion animal situation as well as those that need a new human companion and are available for adoption.
• A home for birds with chronic disease with supportive care and nurturance.
• Staff dedicated to meet the needs of the individual bird.
• Educational programs that focus on some of the sanctuary birds' specific needs or problems, indigenous habitats, conservation status, or social interaction to promote the parrot welfare cause
• Nurturing and care for wild birds that are injured or in some specific need of our services so that they may be returned to their natural habitat or sanctuary as quickly as possible.
The organization defines "to rescue" is to bring a bird that is in an acute, life threatening situation or is in immediate need of assistance into a safe environment to be cared for by a knowledgeable and dedicated staff committed to improving the bird's quality of life. The organization rescues:
• Birds found in deplorable conditions or in danger either by the general public, the foundation itself, or by animal control officers.
• Birds owned by owners who, because they were unable to provide a safe environment for the birds, turned the birds over to our Organization.
Come Meet Our Pets...
We will announce our adoption events
Our Adoption Process...
All adopters are required to sign an agreement that allows us to conduct a pre-home visit, and one possible post home visit within the first two years of placement of an exotic bird.
Rehoming fee is required for all placements.
We Serve the Following Cities, Towns, and/or Counties...
S.W Washington State,Portland. Oregon