Viva Los Gatos Cat Rescue
A PO Box 241593, Cleveland, OH 44124 rescue helping to find loving homes for cats.
Contact
Phone
Email
Website
Pets at Viva Los Gatos Cat Rescue
Any
Baby
Puppy
Kitten
Young
Adult
Senior
1 - 8 of 8 Adoptable Pets at This Shelter
Areas Viva Los Gatos Cat Rescue Serves
We adopt to residents of Cuyahoga, Lake, Geauga, and Summit counties in Ohio. Adoptions to residents of other counties are considered on a case-by-case basis.
Viva Los Gatos Cat Rescue's Adoption Process
1. Submit Application
2. Approve Application
3. Pay Fee
4. Take the Pet Home
We like to think of ourselves as matchmakers for cats and humans. Follow these three simple steps to make to make finding your perfect pet a fun and rewarding experience.

APPLY
Complete our no-obligation Adoption Application. This is how we learn about you and your household, and identify our adoptable kitties that best meet your needs and environment.

EXPLORE
A Viva Los Gatos Adoption Coordinator will review your application and contact you to better understand your preferences. This is also your chance to ask questions about specific cats on your short list of adoptables. If we approve your Adoption Application, you will meet prospective cats and decide which are the best fit for you and your household.

ADOPT
If you decide to move forward with adoption, you will sign an Adoption Agreement. By signing, you agree to provide appropriate nurturing, a healthy environment, and ongoing veterinary care for your Viva Los Gatos kitty.

ADOPTION FEES
Kittens up to one year: $100 or 2 for $165
Cats one year or older: $80

- - - - - - - - - - - - - - - - - - - - - - - - - - - - - - -

Submitting an application is not a binding agreement to adopt. It is simply part of the process leading to a final adoption decision.

Viva Los Gatos reserves the right to decline any adoption.
About Viva Los Gatos Cat Rescue
Viva Los Gatos Cat Rescue is a non-profit, 501(c)(3) organization that rescues, nurtures, and finds forever homes for neglected, abandoned, and stray cats and kittens in Northeast Ohio.

Our founders have over 30 combined years of experience fostering approximately 200 cats and kittens of all ages and abilities. We have volunteered and held leadership and board positions with other local rescue organizations, and we collaborate with a large network of groups and individuals to achieve our mission.

Our dedicated and experienced volunteers foster our cats in safe and loving environments until they are adopted into homes of their own. We monitor every cat's growth, health, and personality, and provide needed socialization and medical care in preparation for adoption, including spaying and neutering.

We will never offer a cat for adoption before it is emotionally, socially, and medically ready, and take great care matching the right cat with the right owner. Age, personality, and the little quirks that make every cat unique must meet your needs and be compatible with a potential new home. Our goal is for everyone to fall in love and live happily ever after.

Cats that are not adopted still have a home... with us. We love and care for our cats for the rest of their lives, so they are never hurt or abandoned again. Please consider supporting our efforts with a donation using the link below.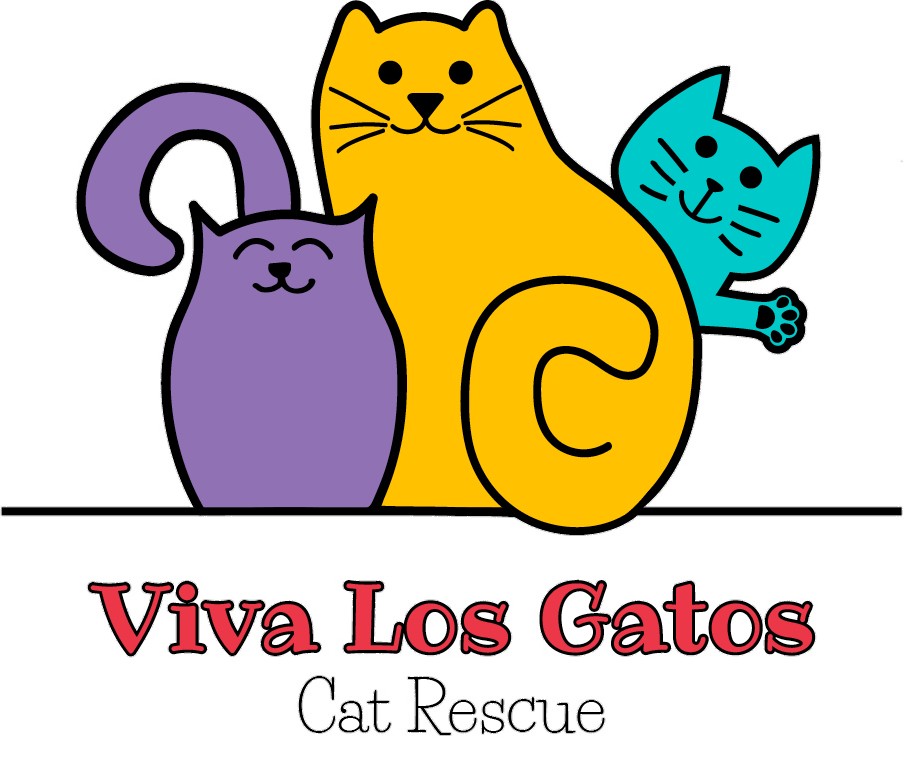 Come Meet Viva Los Gatos Cat Rescue's Pets
You can meet our kitties at any of the adoption events listed on our website. If your Adoption Application has been approved and you'd like to meet a particular cat, we are happy to schedule a private appointment at a mutually convenient time and location.
Make a donation to Viva Los Gatos Cat Rescue to help homeless pets find homes