NEW FOR 2023!
Show the world that your organization is part of Adopt a Pet by displaying this badge on your website!
Having a seal of credibility on your website from an outside source like Adopt a Pet can help adopters feel more secure in adopting from your organization. We created this badge for shelters and rescues to use after passing our initial screening process and being approved for an Adopt a Pet account.
Options for using the badge:
A) Right click on the image to save the badge image, then upload to your website or social media.
B) Highlight, copy, and paste the HTML code below in to your website's code. The badge will take them to www.AdoptaPet.com showing your organization's connection to Adopt a Pet, adding credibility to you.
C) Copy the code below, editing it to link directly to your pet list. To do that, type over the first http://www.adoptapet.com in the code with any of your pet list links here.
We appreciate the link in B or C, as that helps all our pet pages rank higher in search engine results. That helps all pets!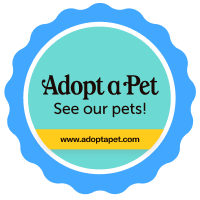 <a href=http://www.adoptapet.com target=_blank><img src=http://images.adoptapet.com/images/shelter-badges/Approved-Shelter_Blue-Badge.png></a>