Adopt a British Shorthair near you in Ann Arbor, Michigan
We don't see any British Shorthairs available for adoption right now, but new adoptable pets are added every day. Try a different search below!
Or, how about these British Shorthairs in cities near Ann Arbor, Michigan
These British Shorthairs are available for adoption close to Ann Arbor, Michigan.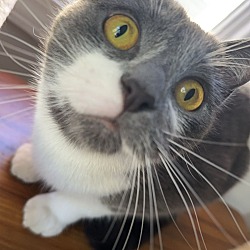 Size
(when grown) -
Details
Good with kids
,
Good with dogs
,
Good with cats
,
Spayed or Neutered
,
Story
Milo is a great little ball of energy! He gets plenty of love and attention every day from my kids and our other animals. He's been great with the kids (6 & 8) and our other animals (2 dogs, 3 cats). Our recent issue is that we recently had our 3rd child who is now less than a month old. Milo's high energy and playfulness has lead to a few accidents with the baby getting scratched or jumped on while sleeping. Nothing serious, but over time has brought us to this tough decision. We believe he'd be better with a family that has no infants/small toddlers.
Use the search tool below to browse adoptable British Shorthair kittens and adults British Shorthair in Ann Arbor, Michigan.