Adopt a British Shorthair near you in Marion, Ohio
We don't see any British Shorthairs available for adoption right now, but new adoptable pets are added every day. Try a different search below!
These pups are in Marion, Ohio too!
Below are our newest added British Shorthairs available for adoption in Marion, Ohio. To see more adoptable British Shorthairs in Marion, Ohio, use the search tool below to enter specific criteria!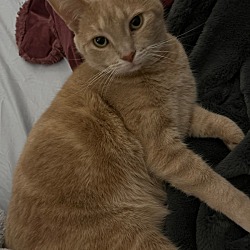 Aphrodite
American Shorthair
Size
(when grown) -
Details
-
Story
Sweetest cat who loves attention and cuddling. Fantastic with people. She doesn't have a tail. Her lack of tail doesn't cause any medical issues. Doesn't get along with other cats. Needs a good home. She adjusted very quickly to her current home. She truly is the sweetest cat and I hate to have to rehome her. She will cuddle with you for hours if you let her….but she does drool a bit when she gets excited about attention. She has so much character, she will judge you though. She loves to sunbathe and feather toys and she hates closed doors. She comes with her 2 feather toys and her favorite blanket. I believe she is between 5 & 6. I don't have her medical history either so I'm not sure if she's spayed. I know she was a barn cat for a couple years, but she truly thrives indoors. She would do best in a pet free home with someone who can give her lots of attention. She would make the perfect lap kitty.
Use the search tool below to browse adoptable British Shorthair kittens and adults British Shorthair in Marion, Ohio.