Adopt a British Shorthair near you in Murfreesboro, Tennessee
We don't see any British Shorthairs available for adoption right now, but new adoptable pets are added every day. Try a different search below!
Or, how about these British Shorthairs in cities near Murfreesboro, Tennessee
These British Shorthairs are available for adoption close to Murfreesboro, Tennessee.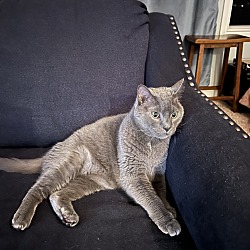 Size
(when grown) -
Details
Story
This is a great cat. Loves attention and is great with kids. We took the cat in to help out brother in law who is in the navy. However, it turns out our son is incredibly allergic to cats.
Use the search tool below to browse adoptable British Shorthair kittens and adults British Shorthair in Murfreesboro, Tennessee.