Adopt a Burmese near you in Edmonton, Alberta
We don't see any Burmeses available for adoption right now, but new adoptable pets are added every day. Try a different search below!
These pups are in Edmonton, Alberta too!
Below are our newest added Burmeses available for adoption in Edmonton, Alberta. To see more adoptable Burmeses in Edmonton, Alberta, use the search tool below to enter specific criteria!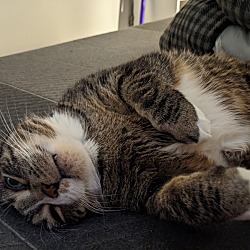 Size
(when grown) -
Details
Good with kids
,
Good with cats
,
Spayed or Neutered
,
Story
Bubba is a relaxed cat. He spends most of his time sleeping. He is affectionate and enjoys being cuddled. He will often sleep curled up against me. If he gets hungry he will start to become more active and affectionate until he is fed. He doesnt like being covered up. If you cover his eyes he will fight (gently) until he can see again. He can be picky with dry food but gets used to it eventually. He has never had an issue with wet food. He was originally a rescue and it was estimated he was 2 years old at the time my ex-girlfriend adopted him. That was 10 years ago. He is around 12 years old now. He is missing a few teeth due to poor dental health. Overall he is a great cat and has never been aggressive with anyone.
Use the search tool below to browse adoptable Burmese kittens and adults Burmese in Edmonton, Alberta.