Adopt a Burmese near you in Madera, California
We don't see any Burmeses available for adoption right now, but new adoptable pets are added every day. Try a different search below!
These pups are in Madera, California too!
Below are our newest added Burmeses available for adoption in Madera, California. To see more adoptable Burmeses in Madera, California, use the search tool below to enter specific criteria!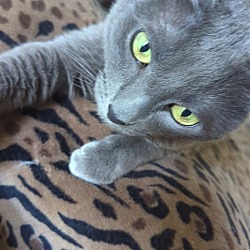 Size
(when grown) -
Details
Not good with kids
,
Needs special attention
,
Needs experienced adopter
,
Spayed or Neutered
,
Story
Sky Blue was given to me by a relative who had kittens in 2015. She was born around March or April of 2015. She is 8 yrs old now. I have kept her indoors most of her life. She has a love/hate personality. She is very territorial so she does not do well with kids. She has had urinary tract infections when she was younger and also has a hard time free feeding. She tends to eat to fast and throw up. So I take her to a pet hospital in Fresno that has helped her improve on these things. They have given me resources and help on how to treat her issues. She has her own prescribed food that she is given on a timer basis. That helps with her gut and urinary issue. She has been spayed and she is up to date on her vaccines. She has complimentary check ups which I pay monthly for on a Wellness plan the hospital provides. She is house trained and has her own Pet safe Litter that cleans itself. She also has a little condo I just recently bought her. Plus two feeders that distribute her food.
Use the search tool below to browse adoptable Burmese kittens and adults Burmese in Madera, California.