Adopt a Burmese near you in Erie, Pennsylvania
We don't see any Burmeses available for adoption right now, but new adoptable pets are added every day. Try a different search below!
These pups are in Erie, Pennsylvania too!
Below are our newest added Burmeses available for adoption in Erie, Pennsylvania. To see more adoptable Burmeses in Erie, Pennsylvania, use the search tool below to enter specific criteria!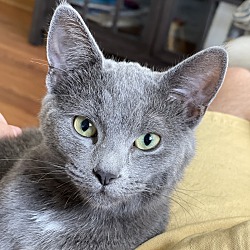 Size
(when grown) -
Details
Story
This is Luna. A very energetic and cuddly 2 year-old female cat that loves attention and getting belly rubs. We got Luna from a private party in January of 2021 when she was a little kitten. Luna is spayed/chipped and has all of her shots up to date. Luna does very well with other pets and kids. She is shy around new people at first but does become very outgoing when she gets used to them. We would love for Luna to go to a loving/caring home and one with other cats/pets is a definite plus.
Use the search tool below to browse adoptable Burmese kittens and adults Burmese in Erie, Pennsylvania.