Adopt a Korat near you in Los Angeles, California
We don't see any Korats available for adoption right now, but new adoptable pets are added every day. Try a different search below!
Or, how about these Korats in cities near Los Angeles, California
These Korats are available for adoption close to Los Angeles, California.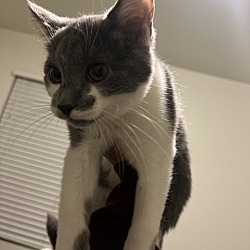 Size
(when grown) -
Details
Good with kids
,
Good with cats
,
Spayed or Neutered
,
Story
He is about 1 year and a half old his name is Meemo. Shy at first but he is super friendly and very affectionate. Loves to cuddle and be petted. Has no special needs and can be left alone and is good with other cats. I got him from Petco when he was a kitten and he is already neutered. Reason I have to give him up is that I am relocating and unfortunately I can not keep him. Just want him to go to a good home.
Use the search tool below to browse adoptable Korat kittens and adults Korat in Los Angeles, California.