Adopt a Manx near you in Riverdale, Georgia
We don't see any Manxes available for adoption right now, but new adoptable pets are added every day. Try a different search below!
Or, how about these Manxes in cities near Riverdale, Georgia
These Manxes are available for adoption close to Riverdale, Georgia.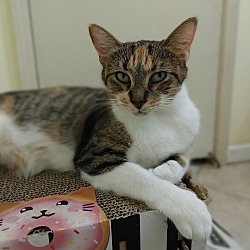 Size
(when grown) -
Details
Good with kids
,
Good with dogs
,
Good with cats
,
Spayed or Neutered
,
Story
Meet Lily! Lily and her adorable babies were rescued from living outside in the hot summer weather when the babies were just a few days old! This beautiful and sweet Manx mama is just over a year old - still a baby herself - and looking for her perfect forever family! Interested? Fill out an adoption application on www.rmgdogs.org ##1860722##
Use the search tool below to browse adoptable Manx kittens and adults Manx in Riverdale, Georgia.
There are animal shelters and rescues that focus specifically on finding great homes for Manx kittens in Riverdale, Georgia. Browse these Manx rescues and shelters below.
We've got all the info you need on adopting and caring for a Manx kitten. Check out the links below for everything you ever wanted to know about Manx kittens and adults.