Adopt an European Burmese near you in Carrollton, Texas
We don't see any European Burmeses available for adoption right now, but new adoptable pets are added every day. Try a different search below!
Or, how about these European Burmeses in cities near Carrollton, Texas
These European Burmeses are available for adoption close to Carrollton, Texas.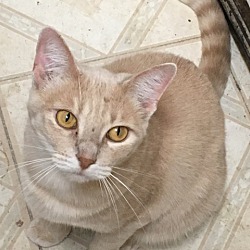 Size
(when grown) -
Details
Story
This beautiful young European Burmese type momcat came to us this spring with a litter of cream/apricot kittens, matching mom's color. They all found homes and now she needs a home of her own. She is easy going but likes to get to know strangers before warming up to them. She loves high places like the top of her cat tree, and gets along well with the cats in her foster home. Her coat is soft and short and she did not shed much this spring. A good house pet, using her box and cat scratchers. She is felv/fiv negative per a snap test and her adoption donation is $95. cash. At present we are limiting out of state adoptions.
Use the search tool below to browse adoptable European Burmese kittens and adults European Burmese in Carrollton, Texas.
There are animal shelters and rescues that focus specifically on finding great homes for European Burmese kittens in Carrollton, Texas. Browse these European Burmese rescues and shelters below.
We've got all the info you need on adopting and caring for an European Burmese kitten. Check out the links below for everything you ever wanted to know about European Burmese kittens and adults.