Meow! My name is Lucas
I found a new home!
Plenty of my friends are looking for one too. Find a pet to adopt.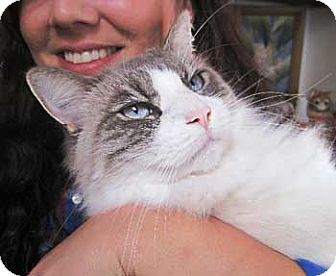 Other Pets at Shelter...
Lucas's Info...
Breed:
Ragdoll
Color:
Gray Or Blue (Mostly)
Age:
Adult
Sex:
Male
Hair:
Long
Lucas's Story...
Lucas; 2 yr old male lilac and white bicolor Ragdoll
This cat has a strange story. A single mom with a young daughter bought him as a kitten and he must have been a fluffy white little thing, not yet showing his colors, since the daughter named him Snowball. He grew into one of the classic, large ragdoll boys and he is growing still and will yet for another year. Ragdolls are known for being the largest breed, even bigger than Maine Coons. The extra big ragdoll males, like Lucas, are always the most sought after.
Anyway, I was contacted by his family and asked if I could take him into foster. They said he was a very loving cat to them, he slept with the daughter at night but disliked other people and they wanted to rehome him. He was put in a bedroom whenever anyone came to the house and he actively disliked the maintenance man, and so forth. They called him an "attack cat." His photo showed him to be a magnificent boy and I knew that if I didn't take him the alternative of being left at a shelter would give him no chance of survival. But how do you adopt out a cat who is hostile to people he doesn't know.? Quite a problem. I asked "What does he like best?" and they said "He likes being around them the best." I asked "Had he ever hurt anyone?" Well, one time, she said, her brother got scratched inadvertently while protecting the maintenance man. Another time she had a few holes in her leg as he scrambled up to get himself to the daughter who was super upset having cut her hand ( he wanted to do his ragdoll job of comforting her ) If those were the only stories, I thought, that was nothing and I said I would take him.
I needed to make room for him and was not ready to take him in for a month. Unfortunately during that month, his family bought a new kitten and put Lucas outside and did not allow him in the house again.. They went out to say hello to him and pet him and feed him. They said he enjoyed being outside which I expect he did except he was so cut off from them. How sad for him to watch his family thru the sliding glass door as they played with their new kitten.
He was docile with them when they brought him to me. He was very angry with us when they left. Actively unfriendly and we stayed away from him as we fed and cleaned his litter box.. Yikes! I wondered if I had made a mistake taking him in.
After a while we started letting him out of his room to run in the hallway and common areas and he liked that. We kept out of his way. And then not long after that, he became the nice big lovebug Ragdoll that he was born to be. He relaxed and began having fun with us so quickly it really surprised me. It started with our photographer friend, Michael, who went in to set him up for a picture. He picked him up and put him on the windowsill just like that. Then he cuddled him and loved him up and Lucas was fine with it. I thought Well, OK look at that! For 6 weeks now he has been a nice, friendly Ragdoll. Strangers can pick him up-- like the woman is doing in the first photo. Four noisy women and myself were with him in a tight space ( hallway ) and he was fine and one woman grabbed him and picked him up so I could get a face photo of him. And still he was fine albeit not quite thrilled as you can see from his expression. But he was very obliging. Few cats would have tolerated that situation better.
So he is a nice loving boy, good natured the way Ragdolls are known to be. He is an absolutely magnificent cat. And he is ready for his new home and a human or humans whose lives he can share. Lucas is a very loyal and sensitive companion, And yes, I think he has had a hard time in his short life. He is still so young and like other two year olds he is just trying to understand his world and figure out how to behave in it. I wonder if when he was younger he misunderstood a situation or an emotional moment between his family and a guest and he imprinted the wrong behavior because of it. ( Was there an emotional shouting incident or something like that with a guest or the maintenance man for example? ) He became protective of his humans. Think of the story of his concerned behavior when the young daughter badly cut her hand and undoubtedly cried in distress, and he climbed up mom insistent to get to the daughter on the counter. Perhaps this mom was unfamiliar with having such a large cat and her worry made him agitated in turn which made her worry more etc. I am just guessing, trying to figure what happened to this once trusting little kitten to create a situation where two yeas later he was so in danger of euthanasia. We'll never know.
Anyway, I think he is cat friendly and could probably handle just about any dog walking the earth. I would like to send him to a large, spacious home with a cat-experienced couple or single person, probably no kids. One question is will he go thru a distressed, unfriendly stage in adapting to his new home?. He might, I don't know but his new family needs to be prepared to give him space and time if he does. Or is that stage over?? I know some lucky adopter will be writing me saying, "Oh my goodness what an amazingly loving and loyal companion he is".
He eats wet and dry food and is litterbox perfect.
His foster mom is the occasionally intrepid Harriet in Santa Cruz.
Rescue Group Info...
About Our Rescue Group...
Purebreds Plus Cat Rescue is dedicated to the rescue, rehabilitation, and rehoming of purebred and other exceptional cats.
Our mission is to educate pet owners, breeders, and shelters about our breeds, and to place our cats with Forever Families who will give them the proper care and love they deserve. We carefully match cats with their Forever Families by evaluating each cat's personality, temperament, and special needs. Then we determine the best fit for both the cat and the new family. Please note that we do NOT ship cats.
Our adoption fee is $175 unless otherwise noted. This fee allows us to provide excellent vet care for the cats that really need it. The healthy kitties make it possible for the sick ones to be saved.
Come Meet Our Pets...
Our cats are neutered or spayed, vaccinated and FELV/FIV negative. We are not a shelter. All of our cats are fostered in private homes. We ask that anyone wanting to meet one of our cats first fill out our online application. These cats are treated like members of our family, and we want to ensure that you will do the same.
When you adopt from Purebreds Plus Cat Rescue, you are saving TWO lives - the cat you adopt and the cat who gets to take its place in Rescue!
Our Adoption Process...
READY TO ADOPT?
First, call the name of the foster mother if you are interested in an individual cat. Once you've chatted, she will ask you to fill out our easy online application. Just "Click to submit"! Next, one of our wonderful volunteers will quickly contact your veterinary and personal references. Then they will give you a call to chat and answer any questions or concerns you may have about the adoption process. Once approved we will help you set up a time to come and meet the kitty or kitties you want. If it's a good match all around you will be asked to sign a contract and pay the adoption fee and you can take the kitty home that very day.
Our adoption fee is $175. That includes the kitty, spayed/neutered, up to date on vaccines, tested for FIV/FELV.
We do not ship pets, however, you are welcome to put in an application and once approved make plans to come out and meet the kitty and fly it back with you.
We Serve the Following Cities, Towns, and/or Counties...
Northern California