Adopt a British Shorthair near you in Lawrenceville, Georgia
We don't see any British Shorthairs available for adoption right now, but new adoptable pets are added every day. Try a different search below!
Or, how about these British Shorthairs in cities near Lawrenceville, Georgia
These British Shorthairs are available for adoption close to Lawrenceville, Georgia.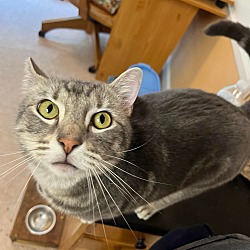 Joey
British Shorthair
Male,

2 yrs 2 mos
,
Special Needs
Size
(when grown) -
Details
Needs special attention
,
Spayed or Neutered
,
Story
Are you looking for the perfect coworker, the ultimate lap cat? This beautiful boy is almost 10lbs and pure love. He does have epilepsy and requires daily medication but his foster momma says he's simply perfect! He has not had a single siezure during his time with Bossy Paws as he is very good about taking his medicine. Apply today at BossyPawsRescue.org Adoption fee $75 Estimated DOB 4/4/2021
Use the search tool below to browse adoptable British Shorthair kittens and adults British Shorthair in Lawrenceville, Georgia.
There are animal shelters and rescues that focus specifically on finding great homes for British Shorthair kittens in Lawrenceville, Georgia. Browse these British Shorthair rescues and shelters below.
We've got all the info you need on adopting and caring for a British Shorthair kitten. Check out the links below for everything you ever wanted to know about British Shorthair kittens and adults.