Adopt a British Shorthair near you in Chicago Heights, Illinois
We don't see any British Shorthairs available for adoption right now, but new adoptable pets are added every day. Try a different search below!
Or, how about these British Shorthairs in cities near Chicago Heights, Illinois
These British Shorthairs are available for adoption close to Chicago Heights, Illinois.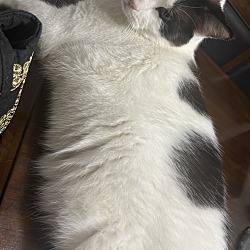 Size
(when grown) -
Details
Story
I'm sad to have to let go my best friend even though I have been allergic to him for the past few years, my allergy getting worse and now I'm moving into with my sister who has worse allergy plus asthma which causing me to give him up that I'm hoping to loving home like he had with me. I got Miso as baby five years ago, he just turned five in March of 2023. He does likes to go outside and lay on the sun. Loves snuggle up next to you.
Use the search tool below to browse adoptable British Shorthair kittens and adults British Shorthair in Chicago Heights, Illinois.