Adopt a British Shorthair near you in Shorewood, Illinois
We don't see any British Shorthairs available for adoption right now, but new adoptable pets are added every day. Try a different search below!
Or, how about these British Shorthairs in cities near Shorewood, Illinois
These British Shorthairs are available for adoption close to Shorewood, Illinois.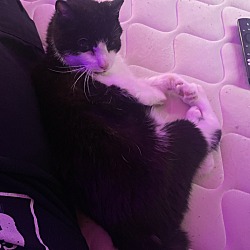 Size
(when grown) -
Details
Good with kids
,
Good with dogs
,
Good with cats
,
Needs special attention
,
Needs experienced adopter
,
Spayed or Neutered
,
Story
19-20 Year Old Black and White Cat. Missing his right paw and tail still gets around without issue. Missing all his teeth due to age and can only eat dry food. Very sweet and friendly cat never fights scratches or bites. MUST GO AS PAIR WITH QUEENS
Use the search tool below to browse adoptable British Shorthair kittens and adults British Shorthair in Shorewood, Illinois.