Adopt a Bull Terrier near you in Kennewick, Washington
We don't see any Bull Terriers available for adoption right now, but new adoptable pets are added every day. Try a different search below!
Or, how about these Bull Terriers in cities near Kennewick, Washington
These Bull Terriers are available for adoption close to Kennewick, Washington.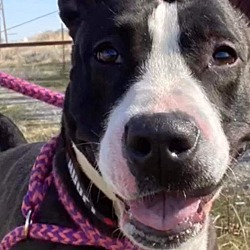 Size
(when grown) Med. 26-60 lbs (12-27 kg)
Details
Good with kids
,
Good with dogs
,
Not good with cats
,
Spayed or Neutered
,
Story
Meet Baby Girl! This gorgeous gal is a Bull Terrier who was born approximately November 2021. Here is a little bit about her: she wound up at the local shelter due to no fault of her own until Mikey's pulled her into the program so they could find her her best fit home. She is very people oriented and loves to go on walks (check out her smile)! Baby Girl would thrive in an active home with a securely fenced yard. She would do best in a cat free home without other small animals but another canine friend of similar size and energy level (she prefers males) would be great as well as an only dog home. We are seeking a home for her with adults or adults and children over 5. Applications for foster and adoption can be found at www.mikeyschance.com
Use the search tool below to browse adoptable Bull Terrier puppies and adults Bull Terrier in Kennewick, Washington.
There are animal shelters and rescues that focus specifically on finding great homes for Bull Terrier puppies in Kennewick, Washington. Browse these Bull Terrier rescues and shelters below.
We've got all the info you need on adopting and caring for a Bull Terrier puppy. Check out the links below for everything you ever wanted to know about Bull Terrier puppies and adults.